TonySourcing keep collecting top sell toys item for business buyer.
today we talk about 11 top best sell game toys on Amazon.com at Apr. 2022
#1 Pokémon Assorted Cards, 50 Pieces
About this item
YOUR BEST VALUE ON POKEMON CARDS: Look no further for the best deals on assorted Pokemon cards.

LOTS OF RANDOM CARDS FROM ALL SERIES: You will receive a variety of regular and energy cards. Duplicates may occur.

BOOST YOUR COLLECTION: With random cards from every series, each lot is a surprise.

Generic Packaging
#2 Pokemon TCG: 3 Booster Packs
About this item
BEST VALUE – Save money when you buy more. Each package has 30 cards (10 in each blister pack) from specialty selected expansions of the Pokemon Trading Card Game. What new cards will you pull?

BUILD YOUR DECK OR JUST TRADE – Whether you or someone you love is a Pokemon trainer battling to be the best there ever was or if you simply enjoy collecting and trading cards, then this is the perfect addition on the road to becoming an elite Trainer.

EXPAND YOUR POKEDEX – Every random booster has the chance to grow your collection and can even include rare cards, legendaries and foils. Booster packs are random and can contain all sorts of Pokemon and card types.

100% AUTHENTIC – No need to worry about reseals, swiped cards or fakes. These boosters are all 100% authentic Pokemon Trading Card Game merchandise

GOTTA CATCH 'EM ALL! Round out your collection and become the ultimate Pokemon Master with this package and other Premium Collections and Trading Card sets.
#3 Move2Play "Egg Toss, Hilarious Game For Kids That Will ""Crack"" You Up"
About this item
EGG TOSS – Play the classic "Egg Toss" kids game without the mess! It responds to your actions check out the DEMO video!

SMART SENSORS – Determine a SOFT vs "EGG-SPOLSIVE" catch! Pass to a friend, catch it softly, take a step back. See how far apart you can get!

HILARIOUS RESPONSES – Includes 40+ Egg-Mazing puns and sound FX that will "CRACK you up!"

GET ACTIVE – This game for kids gets them off the couch and having fun! Great interactive game for preschoolers, toddlers, and kids ages 4-8 or even 3 year olds.

RECYCLED PLUSH – Plush is made from recycled water bottles and the plush is machine-washable for INDOOR + OUTDOOR play. Includes HIGH/LOW volume control and 3x AAA Batteries.
#4 Magic: The Gathering Adventures in the Forgotten Realms Collector Booster Box | 12 Packs (180 Magic Cards)
About this item
12 Adventures in the Forgotten Realms (AFR) Magic: The Gathering Collector Boosters

Shortcut to the coolest cards in Adventures in the Forgotten Realms

Loaded with rares, foils, special treatments, and more

5 Rare or Mythic Rare cards per pack

15 Magic cards + 1 foil token in every pack
#5 UNO Family Card Game, with 112 Cards in a Sturdy Storage Tin, Travel-Friendly, Makes a Great Gift for 7 Year Olds and Up​
About this item
UNO is the classic family card game that's easy to learn and so much fun to play!

In a race to deplete your hand, match one of your cards with the current card shown on top of the deck by either color or number.

Strategize to defeat your competition with special action cards like Skips, Reverses, Draw Twos and color-changing Wild cards.

When you're down to one card, don't forget to shout "UNO!"

This fun family card game is perfect for adults, teens and kids 7 years old and up.

UNO Tin comes with 112 cards and instructions in a sturdy tin that's great for storage and travel.
#6 Taco Cat Goat Cheese Pizza
About this item
PLAY IT ANY TIME ANY PLACE- Convenient take anywhere size game.

SIMPLE AND HILARIOUS- Fast paced laugh out loud fun for any get together.

WILDLY POPULAR- Perfect for all-ages.

GET ROLLING IN SECONDS- Takes only a minute to learn and gameplay lasts for about 10 to 15 minutes.
#7 Hasbro Gaming Rubik's 3X3 Cube, Puzzle Game, Classic Colors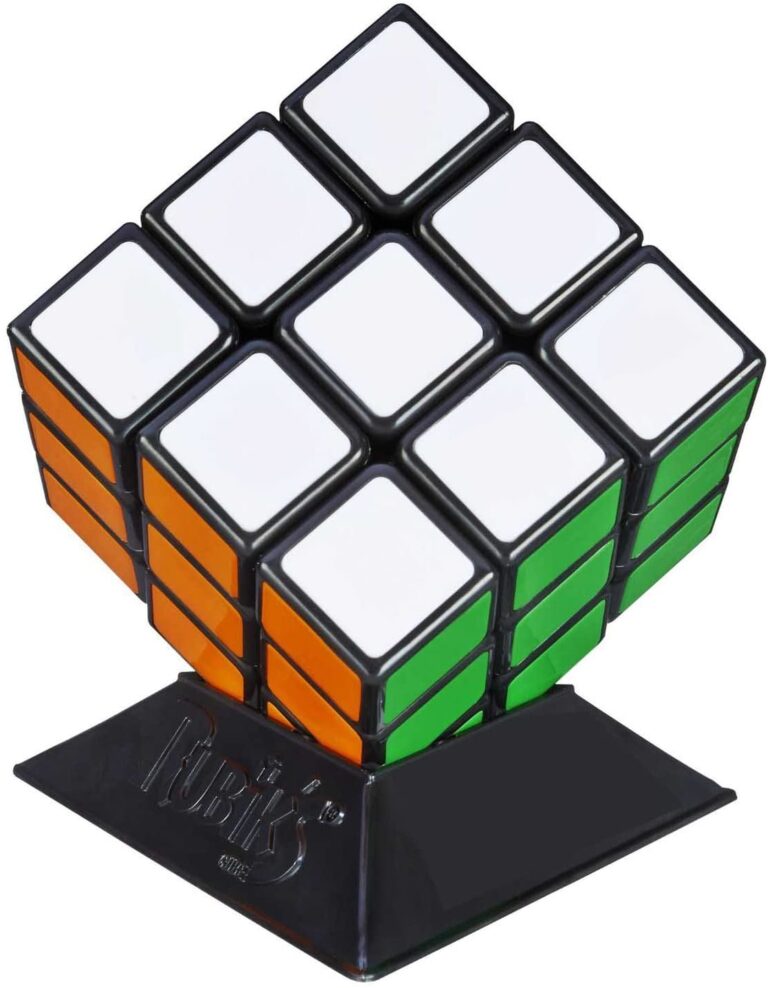 About this item
CLASSIC RUBIK'S CUBE PUZZLE GAMEPLAY: Remember trying to solve the Rubik's Cube game as a kid? With classic puzzle-solving gameplay, The Rubik's Cube game is a challenging puzzle for kids ages 8 and up

TWIST, TURN, AND ROATE: The Rubik's Cube puzzle toy has many combinations, but only 1 solution. Each step involves a sequence of twists of the cube to move a particular square

INCLUDES PUZZLE SOLUTION GUIDE: This Rubik's Cube puzzle game includes a 7-Step Solution Guide. It includes detailed, step-by-step moves, and interesting Rubik's Cube fun facts

SIDES TURN EASILY: This edition of the Rubik's Cube game features an improved mechanism that lets the sides of the puzzles turn easily
#8 Midnight Hunt Collector Booster Box
About this item
12 Innistrad: Midnight Hunt MTG Collector Boosters

Shortcut to the coolest cards in Innistrad: Midnight Hunt

Total of 8 special treatment cards + total of 10 foils per pack

Only MID boosters with Extended-Art cards

Total of 15 Magic cards + 1 foil token in each booster

Become what you fear in a gothic horror set overrun with werewolves, warlocks, and spooky mechanics
About this item
Classic Connect 4 game is disc dropping fun

Choose yellow or red discs. For 2 players

When you get 4 discs in a row you win

Includes grid, 2 legs, slider bar, 21 red discs, 21 yellow discs and instructions
#10 Skillmatics Card Game
About this item
EXCITING CARD GAME OF QUESTIONS – Ask up to 10 questions to guess the animal on the Game Card! Is it a carnivore? Is it a domestic animal? Does it live in groups? Think hard, ask intelligent questions, use your clue cards wisely, and the be the first player to win 7 Game Cards!

SIMPLE GAMEPLAY – Divide yourselves up in teams, ask up to 10 questions and try to guess your opponent's Game Card. It's that simple!

STRATEGIZE YOUR WAY TO VICTORY – Make use of exciting features such as Clue Cards and Bonus Questions to plan your way to winning 7 cards. First to 7 cards wins it all!

PLAY IT ANY TIME ANY PLACE – One game set includes 50 Game Cards, 6 Clue Cards and a handy box to store it all. The box size is portable & travel friendly. Your child can become an instant champion by playing at family game night, gatherings, plane trips and more!

PERFECT EASTER BASKET STUFFER! – This is an ideal gift for any occasion that ensures kids learn through play!

FUN FOR THE WHOLE FAMILY – This is the most exciting game you'll find for Family Game Night that can be thoroughly enjoyed by all ages 6 and up!

BUILD KEY SKILLS – Guess in 10's age-appropriate content and gameplay builds key skills such as Communication, Decision Making, Problem Solving and Creative Thinking Skills.
#10 Skillmatics Card Game
About this item
Pull out a block without crashing the stack to win at Jenga

Includes 54 Jenga hardwood blocks, stacking sleeve with instructions

Simple, solid, and timeless

It takes skill, strategy, and luck. Challenge yourself or play with friends

Win by being the last player to remove a block without causing the stack to crash