As I was raised in a rural area and all of these toys were picked up and played with in the fields, I had a lot of toys when I was a kid. But, as time goes on, our level of life rises, and we all have access to more sophisticated gadgets, I've listed Best Pretend Play Toys now . 
Pretend play toys are a good approach to emulate adult life. It allows you to experience many scenarios, not only have fun, but also help kids practice their hands-on skills, foster logical thought, and develop social skills.
Barbie dolls, variously styled apparel, and accessories are included in this setup. Barbie's closet may be seen via the closet's clear double doors, which are pink on the inside and purple on the outside. Foldable hangers make it simple to switch up your look.
#2 Luke and Lucy Pretend Doll
Luke and Lucy come with a cute matching detachable jumpsuit and hat, as well as eyes that open and close and the ability to suck on their thumb or the included pacifier. Excellent for nurturing and cuddling, as well as for the development of social and emotional skills.
24 beautiful ring designs for your daughter. As shown, use bright colors and cute designs without repetition. These rings can be sized to fit your fingers. There is no need to be concerned before purchasing because these are made of high-quality acrylic and metal, are nickel-free, skin-friendly, safe, and simple to maintain.
A complete wallet set with fashionable fashion accessories that is the ideal size for small hands. 1 Tote Bag, 1 Coin Purse, 1 Pretend Phone, 1 Pretend Lipstick, 1 Pretend Makeup Case, 1 Plastic Credit Card, 1 Pink Makeup Glasses, and 1 Keyring with Key are all included. There are no batteries required. Role play promotes fine motor and social skills, as well as creativity.
Cutting toy for food is constructed of premium ABS plastic. The rounded edges and smooth surface ensure your child's safety while they play. These food toys can be cut numerous times and snap together with sturdy velcro. The toy that cuts food will emit a "cut" sound, giving kids more entertainment.
#6 Kitchen Cooking playset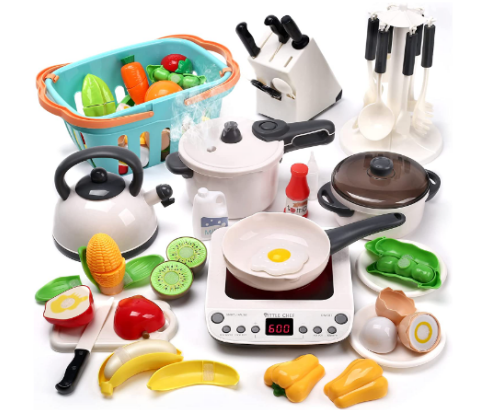 A pressure cooker, pan, induction stove, kettle, utensils, and other cooking equipment are among the play toys included in this kitchen set. Cutlery accessories, toy kitchen knives, and holders for cooking utensils. Play food, a shopping cart, and other cooking toy accessories are also included. Our pretend cooking set is a fantastic resource for role-playing life lessons and enhancing fine motor skills.
High-quality ABS plastic, which is safe for the environment and the human body and is used to make this kid's tool set, is used in its construction. All instruments have rounded edges and smooth surfaces specifically created for kids.
Created to pique the interest of young children in being little crafters while stimulating their imaginations to help them gain boundless abilities and life skills.
Following our research into pretend play toys, we have compiled a list of the Best Pretend Play Toys. If you require additional toy information or toy supplier information, just leave comment below. Here we have the 100+ best pretend toys catalog to download for FREE. Please fill up the below form to get download link