Building Blocks Toys( toy building blocks plastic) is a hot sale Item in the global kids market.
Today TonySourcing team will show you 10 new building blocks toys you may not see in toys R Us.
#1 Big Size Building Blocks House (toy building blocks plastic)
Item Wholesale Price:
As low as $4.52
【Seaside Fun with Friends】 Features a beautiful beach house 42(L)*11(W)*26(H)cm, with a girl, a flower, a tree, a sun lounger for a seaside holiday, the design of the furniture is very delicate, bright colors and tightly stitched. Build a beach villa with friends! ready for a fun adventure.
【Clear Building Steps】The building bricks set to include a full-color instruction manual. Easy to play for the kids and their friends.
【All Pass ASTM F963-17 & CPSIA TEST】Made of ABS Non-toxic material, colorful and solid, flat and burr-free, Smooth edge of each tile will never hurt children's little hands.
【Best Gift Idea】Exquisite packaging for pink house building toys. It will be the best birthday or Christmas gift for kids, and also a fantastic decoration in your room.
【GUARANTEE】Construction building sets are good for promoting a child's brain development and stimulating a child's imagination. If you have any questions please contact us, we will try our best to help you.
#2 Cube Toy Building Blocks Plastic
Item Wholesale Price:
As low as $2.78
Creative link building blocks Animal Puppy Elephant Robot Racing car Airplane Sword Dinosaur Tractor Numbers Letters Building 106pc Building Bricks Magic Puzzle Cube
Best STEM Toys for Boys & Girls Age from 5 to 12 Years old, funny designs for math's games, balance games, thoughts learning, shapes and colors learning, building bricks. Fun Kids 3D Construction Puzzle and Magic Cube, Geometry Shapes. 8 different basic colors (black, white, blue, red, yellow, grey, purple, and orange)
Top Educational Building Blocks, creating various shapes will develop children's imagination, structural thinking and that is an excellent exercise for kids.
Unique Gifts, beautifully packaged, can be used as birthday party gifts, Christmas, Xmas, Thanksgiving, Easter and other holiday gifts for boys and girls over 5 years old.
#3 Sky Wheel Building Blocks
Item Wholesale Price:
As low as $2.96
【SAFE AND FREELY REMOVABLE】 -This amusement park toy set uses high-quality ABS material, which is safe and harmless. The corners and edges of all toy modules are smooth and round, and will not scratch hands during the building process. It contains over 20 pieces of assembly accessories to achieve various DIY combinations and improve their hands-on ability, creativity, and concentration. To be a little builder and decorate a dream paradise, children will enjoy it even if it takes a few hours.
【LEARNING FROM PLAYING】 – The seemingly simple toy contains great knowledge. This educational toy allows children to understand the scientific principle of gear rotation, spiral rotation, the pendulum principle, and "Kong Ming Lock" principles, as well as the cultivation of savings habits, and understanding the various geometric shapes formed by the fences. This toy set is a good choice for your children to achieve STEM education.
【TRAINING LOGICAL THINKING SKILLS】- 4 funny dolls are integrated into the "Kong Ming Lock" principle, with no need for any tools for assembly and disassembly. It is connected and supported by its structure, so the sequence of each step must be correct before you can successfully split or assemble it. This is a very interesting and challenging educational toy that can train children's logical thinking and problem-solving skills.
【FIT FOR ALL AGES】 – The amusement park building set is not only suitable for older children who can complete independently. If your child is younger, you can help him assemble, which is a good parent-child activity. When kids play interactive toys with their parents, the interaction and communication between them will be unconsciously promoted. Children can also improve the hand-eye coordination by using a rotatable Ferris wheel and carousel, and a freely swinging pirate ship.
【COMPLETE ACCESSORIES】 – This block toy set includes 1 x Ferris wheel, 1 x ticket office, 3 x game coins, 1 x dolls, 1 x road signs, 1 x screwdrivers, 2x manual. Children can use their space imagination to build a rich and interesting simulation amusement park. Moreover, they can use their dolls to play role-playing games with their friends.
#4 Flower Garden Building Blocks Toys
Item Wholesale Price:
As low as $2.5
Safe and Stable: It's safe for kids to play. This pretends gardening set is made of sturdy, easy-to-stack 100% recycled plastic friendly materials. Not easy to break or snapped. So stable to insert! No thorn, smooth surface. Won't hurt kids' hands. Without the smell of the rotten, Not harmful to children's health.
Creatvie and Colorful: Create different flower gardens by hand, it can help exercise children's practicality, develop intelligence and imagination. There are different color flower structures, children can understand the composition of flowers, provide aesthetic and rich vision, for drawing flowers helpfully, or feeling nature.
Easy to use, Convenient to carry and store: For children, it is not difficult to insert the building blocks directly, they can complete the combination individually, or they can be placed directly in the flower basket. It is equipped with a small storage box, which can be collected together, not easy to lose! It is convenient very light to carry out. Not occupy space to store with other toys. It is washable for some days later when it's dirty
Fun toys and cool gifts: It is a good toy for children over 3 years old. They can create flowers by themselves or play with friends and family. It can be used cyclically, which brings a lot of fun to children and promotes friendship and happiness. It is also a very popular gift for birthdays, vacations, or school supplies. So funny, so cool!
Multifunctional use: It can be used at different times and in different places. When some quiet children do not like to go out, family or friends can play indoor with them. Also, outgoing children can be taken out of these to the beach, park, or snow, pretending to be planting flowers. Whether it is spring and summer, autumn and winter, it is suitable to accompany children and bring a happy time
#5 Military Building Blocks (toy building blocks plastic)
Item Wholesale Price:
As low as $6.37
SUPER AIRCRAFT CARRIER FLEET: Give hours of thrilling maritime military adventure fun with this ultimate Aircraft Carrier building set, which comes packed with a large Aircraft Carrier that is sure to get imaginations firing.
DETAIL DESIGN WITH HIGH SIMULATION: Large aircraft carrier comes With a variety of radars, satellite communication antenna, carrier helicopter, and antenna, sonar shroud, etc. Up to 36cm length to make the full model more compelling. Great for boys and girls ages 6 and up these army boat building blocks help your children be innovative and create new, fun, unique creations that are original all their own.
LARGE AND CLEAR COLOR MANUAL: This Military Aircraft and Ship Set is easy to play for the kids and their friends, the manual is with specific steps that kids won't miss any details. The set can be compatible with most major brand building bricks and city police building sets for creative play.
ECO-FRIENDLY AND CHILD SAFE: EXERCISE N PLAY toy boat building kit is made of non-toxic ABS material, odorless, smooth without burrs, colorful and solid. All sets are tested for quality control and are guaranteed to met ASTM standards.
BEST GIFT IDEA: Aircraft Carrier Building Blocks Set is a great preschool Education Toy, that can stimulate kids' imagination and enhance brain development. Also, these aircraft carrier models perfect for history buffs or fans of marine and military collectors. It will be displayed perfectly on your desk, bookshelf or on the shelf as a souvenir.
Item Wholesale Price:
As low as $6.37
【Compatible with All Major Brands】: Designed to universal standards, Robot Building Bricks are compatible with your existing name brand building bricks. You can design your own models by adding more toys in.
【8 Models in Total】: STEM Toys could be built into a big flexible robot 8 city engineering vehicles, can maximize the hands-on ability of your child. Children always have endless creativity!
【Learn while Playing】: Educational Building Sets could rapidly improve kids' hand-eye coordination & manipulative ability and train their logical thinking & problem solving-ability during the building time.
【Kids' Safety Always Come First】: Every STEM Building Toy has been certificated to be Non-Toxic and Lead/BPA/Phthalate Free by the Third-Party Lab and exhaustively sterilized before they go on sale. 
【STEM SUPPORTED】: Integrating boring Technological and Engineering knowledge and concepts into funny games, our Transformer Toy is designed for 6+ years old children exclusively to improve their Science, Technology, Engineering, and Math skills at their most creative age.
Item Wholesale Price:
As low as $5.54
[Dinosaur Building Block]: Through a set of building blocks , you can create 12 different dinosaurs: Tyrannosaurus, Velociraptor, Brontosaurus, Pterodactyl, Triceratops , Ankylosaurus,giganotossaurus. Let the children enjoy their own dinosaur world.
[Detailed Guide]:The set comes with a manual, with clear steps to guide children to build dinosaurs.Enhance children's understanding and self-learning ability. Exercise children's hands-on ability, promote intellectual development, and bring sufficient sense of accomplishment and self-confidence to children.
[Extremely Challenging Project]: Build dinosaur models of different difficulty according to your preferences. The most difficult super dinosaur is a test of patience & concentration. It stimulates the imagination and creativity of kids aged 8-12, and provides kids with hours of entertainment, keeping kids away from electronic screens.
[Designed for Children]: The edges of the blocks are smooth and free of burrs. The color is not easy to fade, the block size is specially designed for small hands. The blocks can be spliced ​​easily.
[Best Gift for Children Aged 8-12]: Suitable for playing alone or with family or friends, suitable for family gatherings, birthday parties, classrooms and other occasions. This is definitely a must-have toy for childhood.
#8 Building Blocks Toys Table
Item Wholesale Price:
As low as $2.53
【The Most Accessorized Playtable】The kids activity table set Include a compatible Duplo activity table, removable double-sided playboards, 360 pcs big DIY building blocks compatible with Duplo building blocks. Kids can easily mix with their big building blocks.
【Activity Table Set】Double-sided play boards one for blocks building and come with 360 pcs big building blocks compatible with other big blocks. The other side can be used for kids tackling their homework, coloring a picture, eating a meal, or even working on a science experiment on it. After moved out of the board, it can be converted into a water table, sand table. Anyway, perfect for many activities.
【GROWS-UP with your child】It's as simple as adjusting the table's legs! GobiDex blocks table for toddlers will grow with your child – all the way up to 8 years old!it comes with 4 height table risers to adjust the height to adjust with your kid's growth.
【Multiple Activity Table Set】toddler activity table will entertain kids for hours as a learning table, building block table, and smooth general-purpose activity table great for drawing and crafts. Inspires imaginative play as your kid's splash, build, and create!
#9 Soft building blocks Toys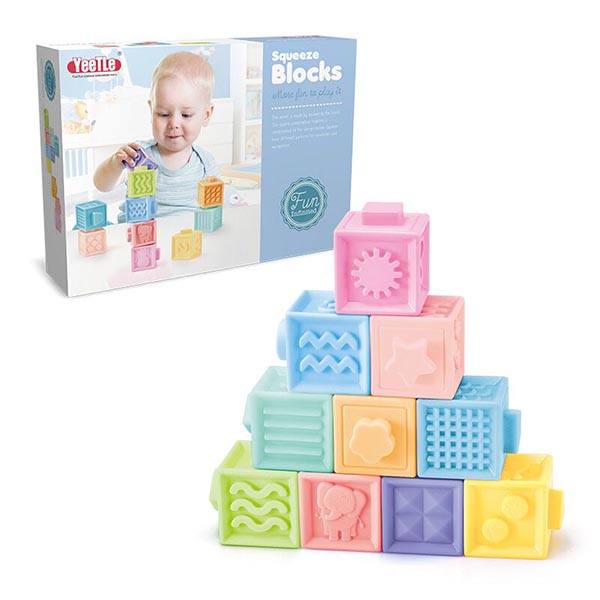 Item Wholesale Price:
As low as $2.87
【Relief Design】A baby blocks set included 10 pieces blocks, Each block has an embossed animal, shape, and geometrical patterns on the sides. And Children can develop their sense of touch and vision by touching and observing these embossed patterns.These amazing blocks can help babies better grow up in their early childhood development.
【Stacking Toy】These baby building blocks are soft, durable, and easy to be picked up and stacked together by the baby's hand. It also can be squeezed and will make a squeaking sound.
【Teethers】It is soft, chewable and perfect for the baby who is aged 6 months and just gets their first teeth.
【Early Learning Play】This blocks for babies provide various fun for kids. Also teaching kids letters, counting, balancing, building, and other motor skills. The carved number is a good way for kids to learn Arabic numerals, addition, and subtraction. It also can be used as a match game.
【Safe Material】Baby blocks are soft, BPA Free, safe, non-toxic and made of food-grade silicone.
#10 Magnetic Building Blocks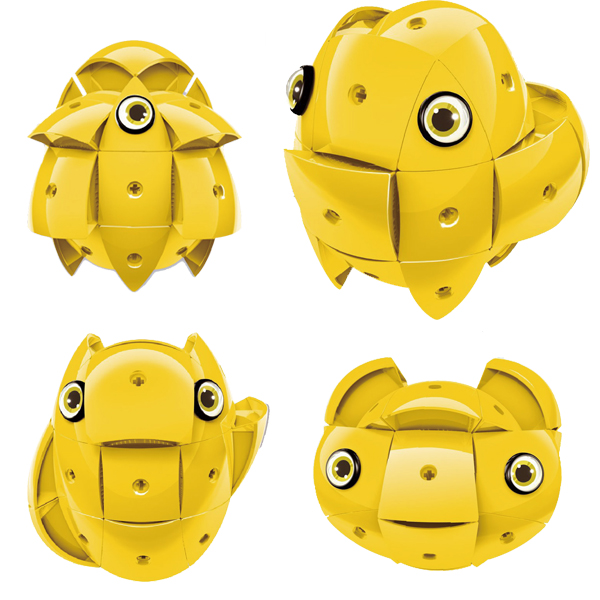 Item Wholesale Price:
As low as $4.22
Intelligence wisdom ball game 55pcs building block eggs kids toy magnetic it is fun and building for ages 3+
Magnet magic: The pieces are designed with Neodymium Rare-Earth Magnets that ensures connectivity every time you play or build.
This set and its pieces are compatible will all other Magformers shapes and accessories. Follow along and build and create with the included idea booklet. Each piece is crafted from HQABS plastic
Imaginative Development: Allow your child to build and create, expanding your child's imaginative horizons and allowing them to develop their mind in new ways
We always put the safety as our first priority.
If you need other kinds of Toys catalog , please contact us.