Alibaba originally began as a peer-to-peer platform similar to Amazon and eBay, connecting businesses-to-consumers (b2c) businesses-to-businesses (b2b), and even consumers-to-consumers (c2c).
These functions are divided into three separate sites: Taobao.com for c2c, Tmall.com for b2c, and Alibaba.com for b2b.
The flagship site, Alibaba.com is Alibaba Group's international business-to-business platform. It connects businesses to global manufacturers. Using Alibaba, a business can find a manufacturer to create bulk products and have them imported into their country.
In many ways, Alibaba acts as the sister site to Amazon, as many of Amazon's merchants purchase goods from Alibaba toys wholesale.
#2 Is it safe to buy from Alibaba Toys Wholesale?
When it comes to buying on Alibaba, it is perfectly possible to do so safely and securely. Yes, some undesirables lurk on the marketplace, but the same can be said for any online selling platform. Alibaba provides a cost-effective way to find products to sell online.
#3 Can anyone buy from Alibaba?
Yes, anyone can order from Alibaba.  Alibaba is the largest supplier directory where a single person can order directly from a manufacturer. But remember that Alibaba doesn't make anything, they feature manufacturers who will work with both individuals and companies.
They're essentially an online directory for manufacturers that you can reach out to and buy products from. You can negotiate price, minimum order quantity, shipping options, and even sample prices.
#4 Why is Alibaba Price quote so cheap?
Cost of labor.
 The fact that the products are made in China has a lot to do with the apparent "cheap" price. Chinese manufacturers take advantage of what some would call "cheap labor", and that reduces the cost of production.
Cost of electricity.
 Compared with other places in the world where manufacturing is done, the cost of electricity in China is VERY cheap. It could be as much as 400% cheaper than the cost in the US. Of course, this means that the cost of production and hence the cost of the goods will be lower.
Selling in bulk.
 When you sell products in bulk, you are guaranteed sale at high quantity and in larger dollar-value transactions rather than when you sell single products. All around the world, wholesale prices are cheaper for this benefit to both the buyer and the seller.
Less consumer targeting.
 The companies that sell the goods to consumers have more to worry about than the manufacturers. Apple, for example, has to budget for marketing, public relations, advertisements, customer service, etc. All of those costs affect the final price of the product that you pay. Whereas, the manufacturers on Alibaba, though they must do some marketing, they don't fight for consumers as much, so their overhead will be less in that regard.
#5 Is Alibaba Like Amazon?
Amazon and Alibaba are both e-commerce giants operating largely without physical stores. Amazon dominates the American shopping space, while Alibaba does the same in China. Amazon sells products directly while also serving as an intermediary for other sellers, taking a cut of the sale.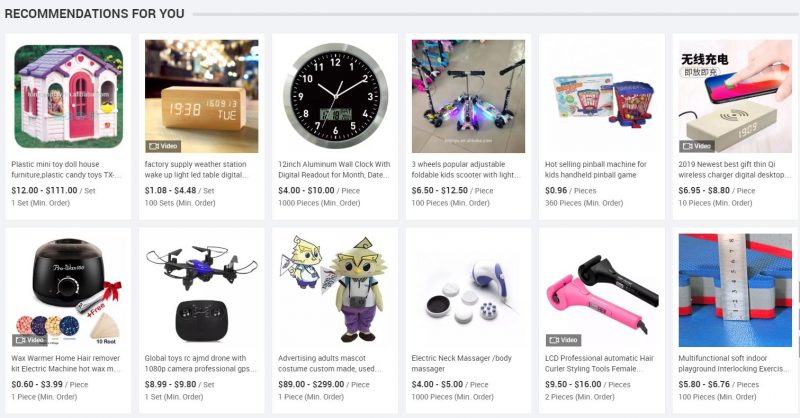 #6 Can I use Paypal on Alibaba Toys Wholesale? What is the safest way to pay on Alibaba?
Payments can be made using PayPal, Visa, MasterCard or bank transfer. The common methods to pay on Alibaba are considered to be via PayPal, wire transfer (T/T) or by debit/credit card. PayPal is the safest of the three as it affords some payment protection with the ability to open a dispute if there is a problem.
#7 Can I sell Alibaba products on Amazon?
Yes, you can,
But, almost all the items you found in Alibaba, you can easily find someone sale on Amazon as well.
Alibaba supplier mostly can do customize, you can send you requirements for them to create your "new" item.
#8 4 Tips for Safely Buying from Alibaba
Use Reputable Suppliers
There are different supplier types offered by Alibaba. These suppliers have often to jump through additional hoops to be certified.
There's never a complete guarantee of total quality, but if you look for suppliers with ALL THREE of the following ratings, you're more likely to find one that takes quality very seriously.
Gold Supplier: This supplier has paid a costly fee to be pre-qualified. In many cases, the fact that a fee is paid means that it's less likely you'll end up getting scammed.
Trade Assurance Supplier: With this designation, you can be reasonably sure that the products are checked before shipment and that they will arrive on time. Otherwise, you can get a refund from Alibaba.
Assessed Supplier: A third-party inspector has been to see this supplier, and you can even get a downloadable report of the results.
This is a good place to start when narrowing down your supplier possibilities.
You also need to be wary of suppliers that ask for a full payment to be sent upfront, and that you send it independent of Alibaba. That can be an indication that something shady could be about to go down.
Check the Reviews and Ratings
Before you decide on a supplier, make sure you check the reviews and ratings associated with them. You can check reviews on Alibaba, of course, but it's also a good idea to branch out a little.
Consider Googling the supplier's name to get an idea of what to expect. Don't be afraid of Googling the name alongside terms like "scam" to get a better idea.
There are also international supplier websites, like Supplier Blacklist, that provide reviews and warnings for certain suppliers. This can be a good way to do your homework.
As you look at forums and reviews, watch for these red flags:
Very low product prices in conjunction with complaints about low quality
Complaints about defective parts or broken products
Assertions that the first shipment was good, but the second shipment showed quality issues
Poor working conditions in factories
While you can't completely avoid poor quality all the time, you can reduce the chances that you get stuck with low-quality products.
Avoid Brand Name Products
Finally, when looking at suppliers and hoping to find a good one to work with, look out for those that purport to offer brand names.
For the most part, licensed products are not available on Alibaba. So, if you have a supplier claiming to offer low-cost products branded with Nike, Louis Vuitton, or Coach, there's a good chance that they're knock-offs.
If you sell these products in turn, you can be subject to legal action. So watch out for suppliers that claim to offer you access to hot brands at very low prices. Chances are that you could wind up in trouble.
Consider Your Gut
   Don't forget to trust your gut. If something seems too good to be true, it probably is.
Does something seem extra reasonable? Are you suspicious of how easy it all seems to be happening? Take a step back. You don't want to end up scammed.
I am always extra careful when dealing with Chinese suppliers and I'm always overly paranoid. Be careful who you trust!
#9 Can I get a refund from Alibaba?
Yes, but I need you to use Alibaba Trade Assurance Service.
The Alibaba Trade Assurance is a payment and buyer protection service meant to add an extra layer of security when paying suppliers in China. Alibaba acts as a middleman between the buyer and the seller. As such, the buyer transfers the funds upon placing an order to a designated Alibaba bank account with the Singapore City Bank.
Alibaba then releases the funds once the goods have passed a quality check and been shipped on or before the set deadline.