In this guide, I am going to introduce you to everything you need to know about how to find the best wholesale toy manufacturers in China.
For more toys info about Made in China, view <Made In China Toys – Read Before Import Toys From China>
I'll show you some tips and the best marketplaces to find wholesale toy manufacturers in China Sourcing, and also the things you should know when finding Chinese wholesale toy manufacturers.
#1 Where to find the best wholesale toys manufacturers in China?
(1.1) Find Chinese wholesale toy manufacturers from toys exhibitions in China
To attend different trade fairs in China or worldwide countries is a MUST-do task for many professional toy buyers. You are easy approach many toy factories in the exhibitions. 
Some famous exhibitions of the toy industry in China are Guangzhou Int'l Toy & Hobby Fair, Hong Kong Toys & Games Fair, China toys expo, Chenghai (Shantou) International Toys & Gifts Fair, etc.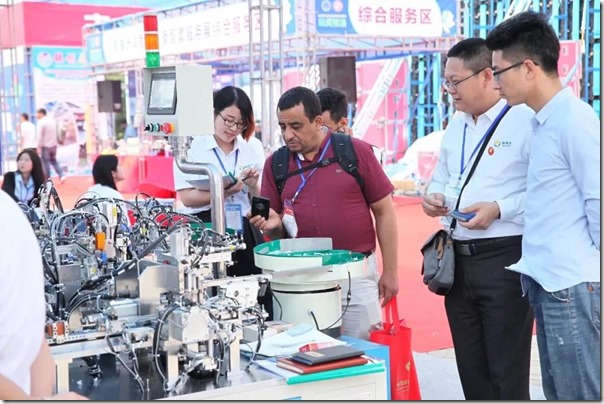 Tips for attending exhibitions:
You can contact some of your target Chinese toy manufacturers before visiting a show. Try to arrange a meeting time with them in advance. in this case, the toy manufacturer will leave more time to discuss with you.
**10 Top Toys Exhibition Must Visit If Buy From Shantou Toys Market
(1.2) Try Online B2B Marketplace in China
Despite attending toy exhibitions, you can also find toy manufacturers from Chinese online platforms. The Chinese toys manufacturers most frequently use the following Chinese B2B marketplace:

You can search on these B2B platforms and contact some toys manufacturers for details, following is an email script I use to contract manufacturers in China:
Hi, [name of toys manufactures]
I am [your name] from [your company name] company. 
I am interested in (product name or item No. of the toy manufacturers). May I ask some questions first: 
What is the minimum order quantity? 
What is the price of (product name of the toy manufacturers) based on minimum order quantity? What's the price if I increase the amount?
Can you let me know the lead time based on the minimum quantity? 
Can you do OEM or ODM?
I need a sample first to verify your product quality. Can you indicate the sample cost, including shipping to:
[Your address]
Thank you, 
[Your name]
Tips: Do remember not to write too short or too long emails for the first time. There are many crammers sending emails to different suppliers on the B2B marketplace every day. So many suppliers ignore those emails that look like spam.  
If you want to get an answer from the manufacturers, write a concise and well-organized email is a must.
(1.3) Try sourcing companies to help you find the wholesale toys manufacturers in China
If you are not experienced enough with the toys supplying management, you can cooperate with some sourcing companies or buying offices in China to help you find professional toys manufacturers.
Generally, sourcing companies or buying offices are very professional in identifying qualified manufacturers. Relying on them can save you a lot of time during sourcing, and most of the time they can help you get a better price.
Some sourcing companies in China you can start with:
**Toys Buying Agent – how they work to get your better wholesale 
(1.4) Use Linkedin as one of your sourcing methods
There are many Chinese wholesalers, distributors and manufacturers are publishing their company file or personal introduction on LinkedIn. You can approach some proper Chinese toy manufacturers on LinkedIn as well.
 (1.5) Search on Google
Search on Google is not a secret, there are a few search strings that help you to search on Google:
#1 "keywords" + manufacturer+China
#2 "keywords" + wholesale+manufacturer+China
#3 "keywords" + factory+China
#4 "keywords" + factory+wholesale+China
The negative point is that few manufacturers in China pay attention to online marketing, so it not easy to find them from the top 10 search results, you'll have to trawl through many pages until you see some Chinese legitimate toy manufacturers.
Now you know where to find toy manufacturers in China.
You can also start your Toys line with TonySourcing. Who is TonySourcing?
TonySourcing is a professional toy wholesale website who help oversea buyer to import toys wholesale directly from Toys factory. 
You can find various trendy toy items on Tonysourcing.com including car toys, educational toys, craft & art toys, RC toys, baby toys, Stem Toys, girl toys, Kitchen play toys, sports toys, Dinosaurs toys, etc.
Due to years of experience in the toy industry, TonySourcing has established a great relationship with over 5000 professional toy manufacturers in China. In this case, working with TonySourcing is way better than dealing with the toy factories on your own.
(click here to get TonySouring toys wholesale catalog)
Why?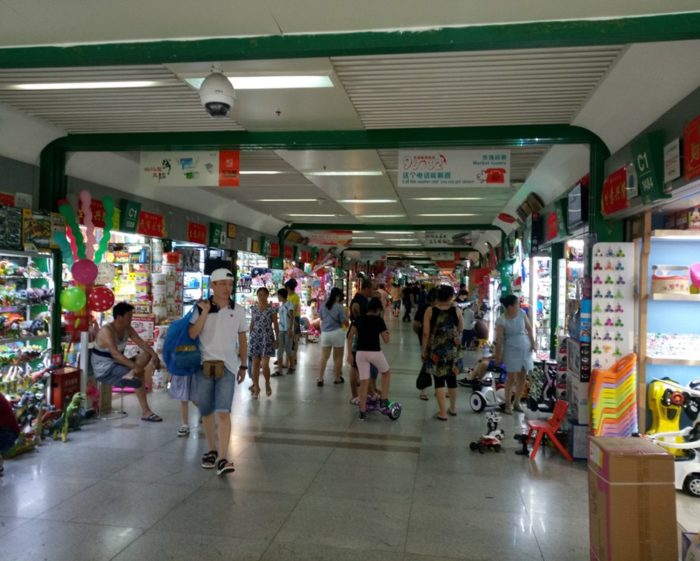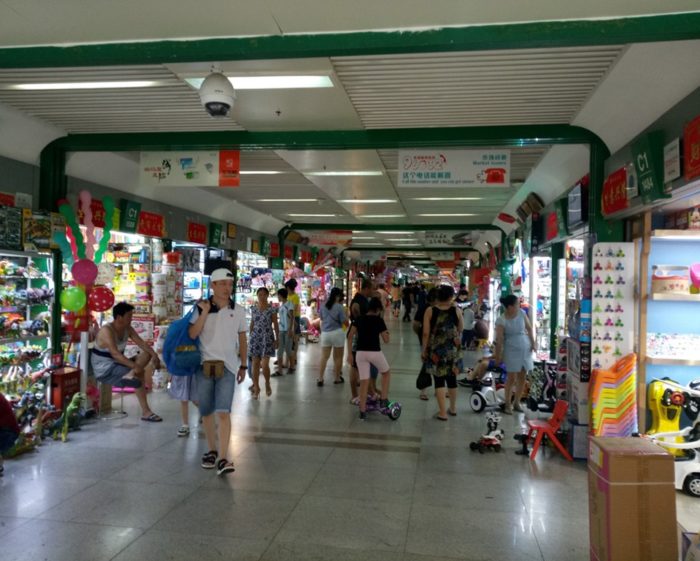 Imagine that, you make full efforts to try to deal with 20 toy factories in China, you are entirely in a mess every day, tired of communicating and managing all kinds of stuff with different toy factories such as delivery, quality, inspection, logistics, etc.
For big companies, are professionals in the toys supplying chain management, dealing with toy manufacturers is not that difficult for them.
But what about the newbies? Is it worthwhile to put all your attention on managing and searching for the best toy manufacturers and lessen your time in selling and promoting the clothes?
I guess you've come up with your decision. Rely on TonySourcing to take care of your toy chain management and put all your attention on the selling and promotion will boost your business dramatically.
What can you get from TonySourcing?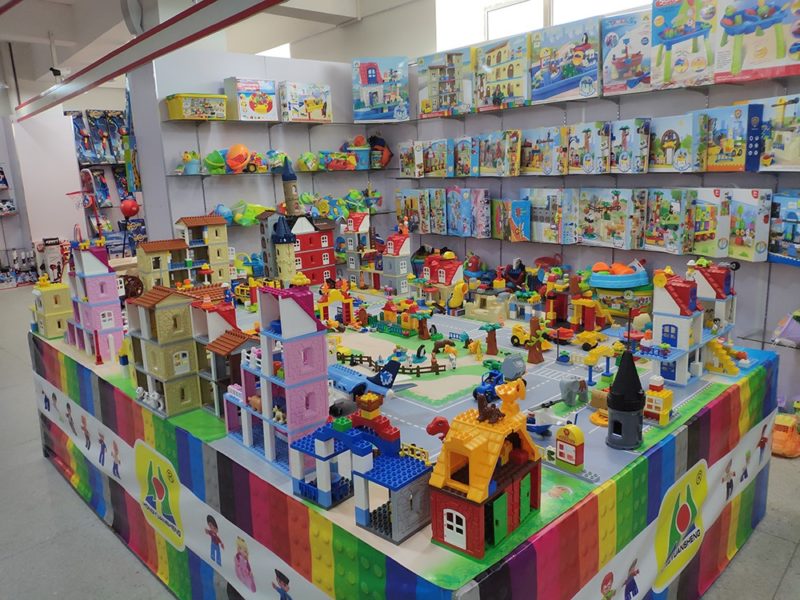 Choose from 5000+ China toys suppliers, 100,000,000+ items
directly from China toy manufacturer, maximum save 60% cost
Tonysourcing provides a 1-stop service to handle all
get toys buying knowledge support,TonySourcing team will be your partner
Sounds good? Contact us today to purchase all your toys at TonySourcing.com.
So you know how to find the toy manufacturers in China and you know who to work with for your toy business. In the following part, I am going to show you some frequently asked questions in the toy industry.
In the next part, I am going to share with you the things you need to know when finding toys manufacturers in China.
(2) Things You Should Know When Finding Wholesale Toys Manufacturers in China
Identify the wholesaler, sourcing companies, and toys manufacturers
Find Chinese wholesale toys manufacturers according to your business capacity
Choose the wholesale toys manufacturers who can provide test reports
Choose the toys manufacturers who have a formal manufacturing system
Divide toys manufacturers into apparel manufacturers and fabrics suppliers.
(2.1) Identify the wholesale suppliers
Identifying the different suppliers on the B2B marketplace is your first job, are they traders, wholesalers, or direct toy manufacturers?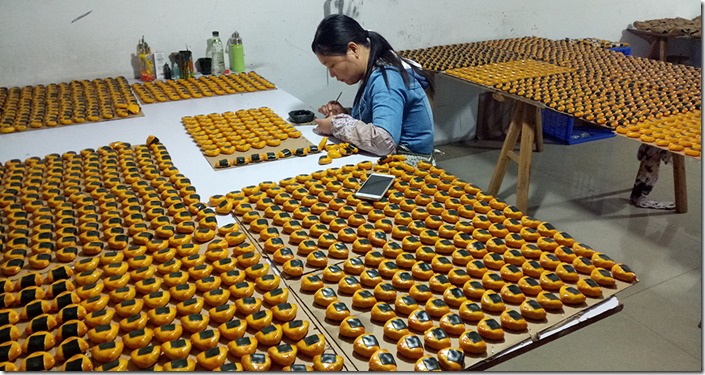 You can have a brief understanding of a supplier by reviewing their company page on Alibaba or Global Source. Generally, you can understand their business role by checking their business license.
According to this business license, you can notice that it's a textile fabric manufacturer which is focusing on exporting.
If you can't find notification of "production," "manufacturing" or a specific production procedure in the supplier's business scope, in most cases, they are traders. Such vendors are also listing a diverse choice of product categories in the business scope.
(2.2) Find Chinese wholesale toys manufacturers according to your business capacity
Don't look for the big toy manufacturers only. Big toy manufacturers in China are recommended for big companies because they require a significant minimum order quantity, and they are quite busy dealing with big customers who will leave less energy focusing on supporting small businesses.
Small businesses are recommended to find small or medium-sized toy manufacturers with qualified goods provided. You will get a low minimum order quantity requirement from those vendors.
What's more, compared to big toy manufacturers, the small or medium-sized toy manufacturers will put more attention to supporting and serving small businesses. In this case, small businesses will get better service from those vendors.
(2.3) Choose the wholesale toys manufacturers who can provide test reports
There are many certificates or test reports required when exporting toys to the USA, EU, Australia, and some other countries.
The prior choice is to choose the toy manufacturers who can provide you the complete certificates or testing reports, such as SGS test reports, SST test reports, etc.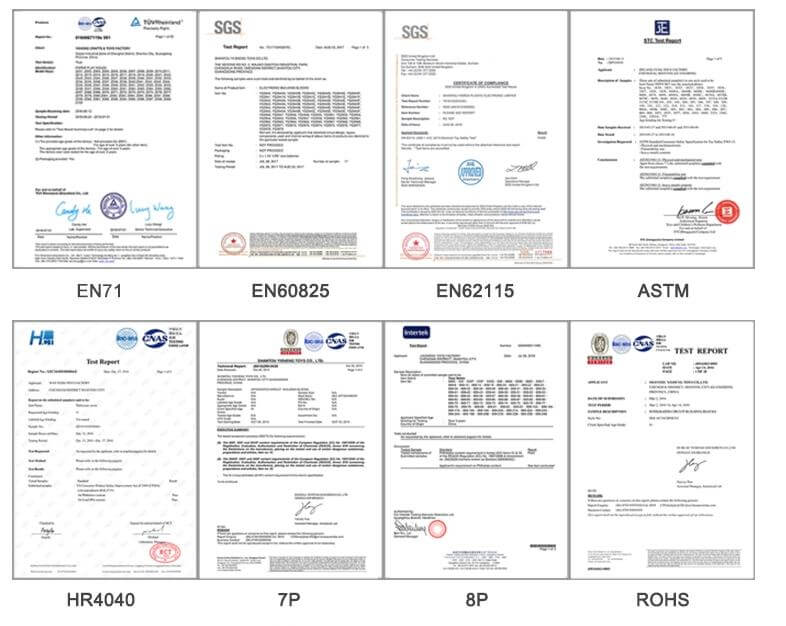 (2.4) Choose the toys manufacturers who have a formal manufacturing system
Many professional manufacturers are equipped with excellent manufacturing systems, such as ISO 9001:2008. Generally, the quality standard from manufacturers of ISO 9001:2008 will be better than those who don't have the certification.
Besides, the toy manufacturers who can provide BSCI and Sedex certification are the ones you need to put in your priority suppliers list.
(3) 4 Frequently Asked Questions in The Wholesale Toys Industry
(3.1)How to start my toy business?
This is a good question for a new toy business starter.
Before you come to china to select the toys and order them,
Better you do some homework first.
Or you will be like one of my India customers, he is happy to fly to China, but after check million of toys design here, he gets confused and does not have an idea what he want.
Below it is 3 tip for your homework
First one, the toys category
The second one, Check your selling market
The third one, setting your profit
(3.2)How to check toy price list?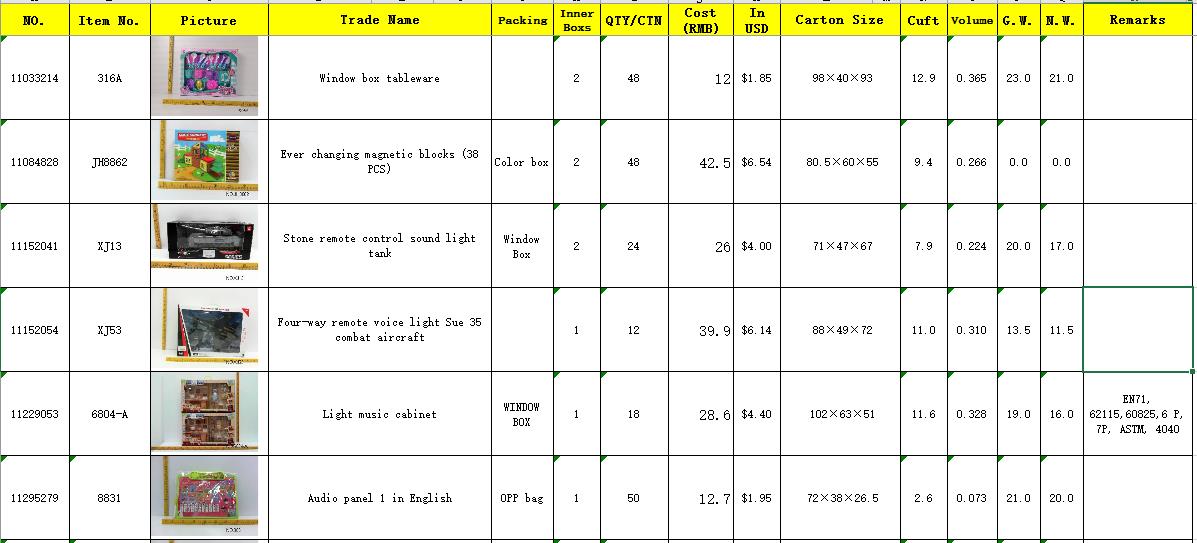 #1 Unit Price
#2 QTY/Carton
#3 MOQ Carton.
#4 Carton Measure
#5 G.W & N.W
(3.3)What can be found in the China toy wholesale market?
In fact, 90% of toys selling in your country now it is made in China, come from China.
You can easily find those toys in China market.
Even, as per our visitor feedback, they found in China market, 60% of toys they never see before,
It doesn't mean this 60% all is a NEW item,
possible no importer buy that item to sale in your country
possible those toys item do not match your country market to sale….
(3.4)How to arrange to ship a container from China to your warehouse?
3 step
#1 China custom export
#2 the sea freight from China seaport to Your country seaport
#3 Your country custom import
check how to import toys from China video.
we've talked a lot about the toy manufacturers in China, start your business today in the toy industry, you will enjoy the great fun, and leave me a comment if you have more questions on finding the Chinese toy manufacturers.
Fill up below sourcing form if you plan to find the toys manufacturer. we will reply you within 48hours.