When it comes to buying something cheap yet effective we all know that China is the best manufacturerof the wholesale market. Almost 90% of toys are produced in China making it the largest industry in the Toys section. Many people are aware of China's Wholesale market, but where to find the best ones is the first question that arises in your mind. As there is a lot of Made-in-China Toys market out there we target the best and top 8  China toys wholesale markets to import toys from China.
When it comes to buying in bulk we all know that China provides the best price with good quality at the same time making it easier for the buyers to purchase a lot of things in just a few pennies.
Today we will provide a complete Guide for the top 8 toys wholesale market in China.
so you can easy find China wholesale suppliers here.
Article 1 : How is the 6 step to import toys from China ?
Article 2:  9+ business tips when SOURCING product from China suppliers
Yiwu is one of the largest markets for commodities wholesale. It's a heaven for any buyer willing to purchase goods at less price. It is the most efficient and updated market with a huge variety of toys. A person cannot come out without taking anything from this market. The beautiful environment creates a childhood experience for the buyer.
The Toy market is located in building 1. There are around 2,000 Suppliers of Regular toys like educational toys, Electronic toys, Inflating toys and Fabric plush toys. You can find a variety of suppliers in the market altogether in one place making it easier for the customer to browse the whole market in a single day.
The market keeps itself updated according to the change happening in the toy industry, for example, Balance scooters and Spinners. These 2 items were HOT in 2015 and 2017. New designs can be seen in the market every day.
The MOQ (Minimum Order Quantity) on a single item is 1 CTN. Free delivery (to Yiwu warehouse) usually requires a total 5-10 CTN from suppliers.
But in March 2019, only 20% of the items in this market had stock due to which the suppliers accepted MOQ of 1CTN. This is why sometimes it is not good for toy business starters.
Need Yiwu Toys Agent Guide & buying Service?
Check here.
#2 Shantou China Toys Market
Shantou Chenghai is one of the biggest plastic toys industrial base city. With a huge number of 8,000 suppliers of plastic toys. Here the prices are a bit higher due to the high quality of products. The MOQ is also higher than other wholesale markets, it is from 3 to 5 CTN. The customer buying through this market is actually directly buying from the factory eliminating a middle man (trader) to keep the stock. So the prices are not much affected by the trader too.
In Shantou, there are around 8 huge toy markets making it called as a toys exhibition hall.  (need more detail ,click here about 10 top Shantou toys showroom.)
#3 Lingyi Yongxing China Toys Market
In China, the biggest toy market is in South China (The Yiwu Toys Wholesale market) but in North China the biggest toy market is Lingyi. This amazingly huge market has over 100 toys market which includes big and small both markets, the biggest one of them is "Yongxing Toys Market". The 4,000 toys wholesale suppliers are located in A, B and C areas.
A area — electronic toys, children's bicycles, Inflatable Toys
B area – Plastic toys
C area – plush toys (stuffed toys)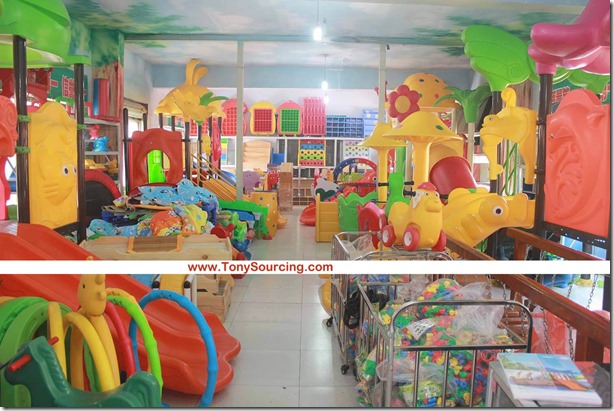 As compared to Yiwu Toys market, Lingyi toy market values yearly (including sale to China's mainland) are higher than Yiwu's toy market. The plus point is that the market is bigger which means more suppliers. Most importantly, the products are offered at MOQ of 1 CTN per order, because the suppliers are always full of stock.
#4 Yangjiang Wutinglong international Toys & Gift City
This toy market is the best place for people who love Plush (stuffed) toys. This Toy market is solitary and professionally for Plush (stuffed) Toys. The building is located on a 180,000 square meter with over 2,500 shops selling only plush toys, plush materials, and plush gifts.
The MOQ here is nil, even if you want to buy just a single piece it is acceptable here. Of course, the price will be a little higher than the wholesale price.
#5 Baigou Plush Toys wholesale market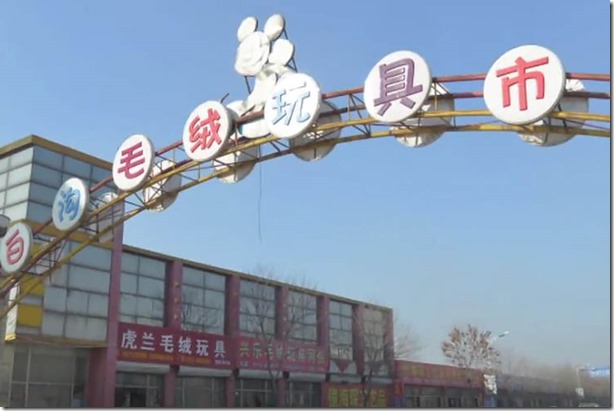 The Baigou market is also a plush toy wholesale market, but if you are looking for a lower quality than Yangjiang Wutinglong international market, then this is the best option for you. The market has cheap quality as well as low prices for the plush toys.
The market is located on a 20,000 square meter area with a total of 380 suppliers willing to sell cheap quality plush toys, with a little effort you might be able to find some good quality as well. The transaction is around 130,000USD daily. Normally they sell wholesale but they also accept retail here.
#6 Yunhe Wooden Toys market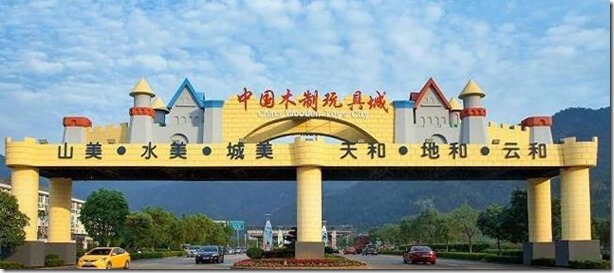 Yunhe town is located in Zhejiang province, and is known as "China wooden toys town". The team of this market deals with forest resources due to which 80% of toys are made of wood.
This place is not a market rather it is a city in itself which includes many shops and sellers inside. This market does not directly consist of shops or sellers rather you will find directly the factories here. The products are supplied to Yiwu toys market and to other parts of the city.
Here we are introducing one of the biggest company in Yunhe town, built on a huge showroom and almost every factory in this town display's their items in the showrooms, the buyer can choose any wooden toy item in this showroom and can directly order them.
#8 Guangzhou Toys Wholesale market
Most people know Guangzhou because of the popular fair "The Canton fair" which is located in Guangzhou. People usually get confused that where to find Guangzhou toys wholesale market, this guide will help you find it very easily.
Guangzhou toys wholesale market is not located in just one place, there are almost 4 main toys wholesale markets.
A. Wanling Plaza Guangzhou (万菱广场)
Wan Ling Plaza is located in the ground section on 138.9 m, with a total of 41 layers, the Pearl River
North of the landmark buildings. Negative 1 to 6 layers of fine home accessories, toys wholesale and
The business area of about 40,000 square meters.
Address: NO.39 Jiefang Nan Road, Yuexiu District, Guangzhou广州市越秀区解放南路39号
B. International Yide Stationery & Toys Plaza Guangzhou(广州国际一德文具玩具精品广场)
In Guangzhou, a German international toy boutique stationery Plaza is located in Guangzhou City Tiancheng Road, Germany Road, and Hoi Chu Road Interchange. The total construction area is of 25,000 square meters and has more than 1,200 shops. It is the largest German International toy boutique stationary plaza in Southern China, with the highest level of improved management level of toys stationery wholesale market. The sections are divided into four main businesses of toys, stationeries, and gifts.
Address: Yuexiu District, Guangzhou City, No. 390, Yi Desi road广州市越秀区一德西路390号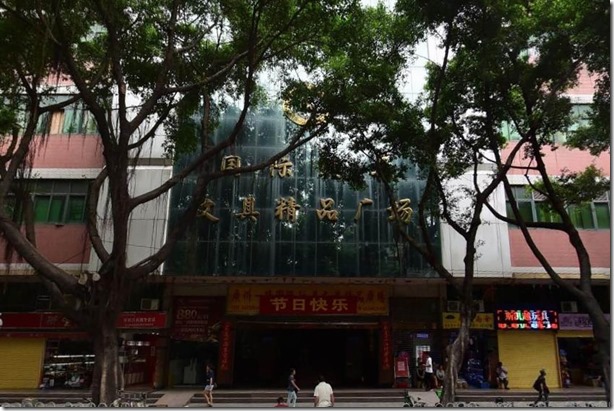 C. Zhonggang Boutique Toys Wholesales Market Guangzhou(中港玩具精品批发城)
This place is a collection of many famous toy boutique wholesale toys. The annual sale of this place exceeds several billion Yuan's. The main products are toys and stationeries industries.
It is located in front of International Yide Stationery & Toys Plaza.
Address: No.399 Yide Xi Road Yuexiu District Guangzhou广州市越秀区一德西路399号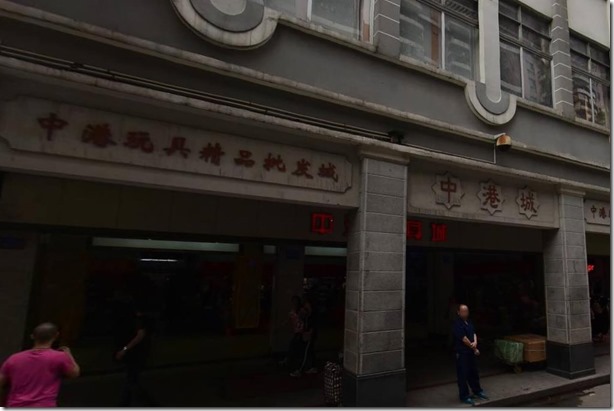 D. Liwan Toys Wholesale Market(荔湾玩具批发市场)
The Liwan toy wholesale market is in the Guangdong Province. The first section has the size and characteristics of a professional toy wholesale market, which has been operating for over 7 years. The market covers a total area of 2000 square meters, with more than 80 shops located inside it.
Address: No.38 Shiluji, Zhongshanba Road, Liwan District, Guangzhou.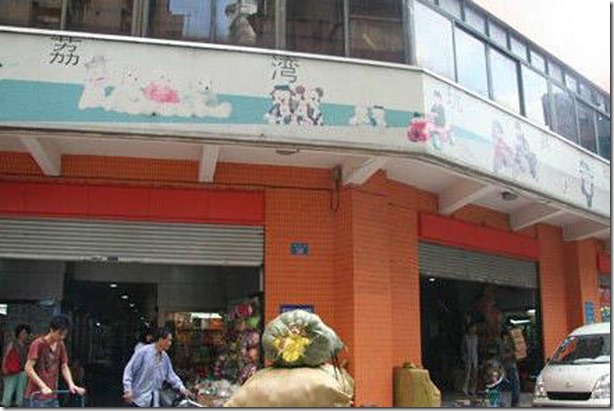 TonySourcing supplies all kinds of Toys & Gift items for global buyers. They located in Yiwu & Shantou China, behind them there is over 5000+ toys manufacturer and 10 top toys wholesale & distributors supply market.
For Toys importer, they provide toys market & factory visit guide service and one-stop follow-up process including order follow up, payment, Quality control & shipment.
For toys Wholesaler/ retailer shop owners, they provide various toy supply service. Their development department collects from over 10 million items and pick up around 5k good sale item and make the catalog for the client to choose.(Get Free Catalog)
For Amazon sellers/ online businesses, they provide toys sourcing service. Sourced right manufacturer, give advise and solution, get the best price is their advantage.