Best STEM toys for kids are toys that promote education and learning in the fields of science, technology, engineering, and mathematics. These toys are designed to help children develop problem-solving skills, critical thinking, and creativity. Some of the best STEM toys for kids include building sets, coding kits, science kits, robotics sets, and electronic kits. These toys are not only fun and engaging, but they also help children develop important skills that will prepare them for future success in school and beyond. STEM toys are a great way to encourage children to explore and learn about the world around them while having fun at the same time.
We help oversea buyers to purchase STEM Toys Wholesale from China factory directly.
Below is some useful info of China Toys.
#1 What is STEM Toys?
STEM includes science, technology, engineering, and mathematics. STEM originated in America. In the past, they used to academic disciplines in the school. Now they integrate into the course in order to motivate students' curiosity and thirst for knowledge.
#2 What is the STEM function?
Nowadays, students do not only study the simple course in the school but also study some intelligent and professional course in order to train talents, improve professionalism and competitive power. STEM toys could train students' thinking. During the study, STEM could encourage students to develop intelligent though diversified study.
#3 Where you could buy Stem Kits Wholesale ?
In China, where you could find these toys ?
We can introduce some places, such as the Yiwu Toys market and the Shantou toy market. There are many showrooms to visit many kinds of toys. You could find the STEM toys there.
There are 5 top factories of STEM toys with some samples.
#A. JHF Toys (嘉会峰)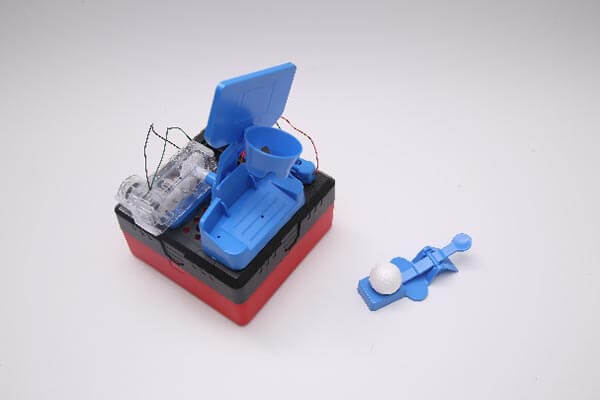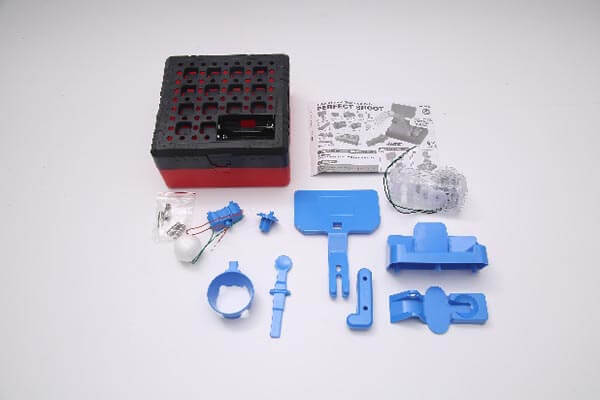 For kids, they know less how to construct the toys with battery and electric wire when they play the toy. This toy called DIY electric swing basketball. It can train children 's practical ability on how to construct toy and study some physics knowledge. Because this toy with battery, the children should play with their parents.
#B. Small Egg toys (小巨蛋)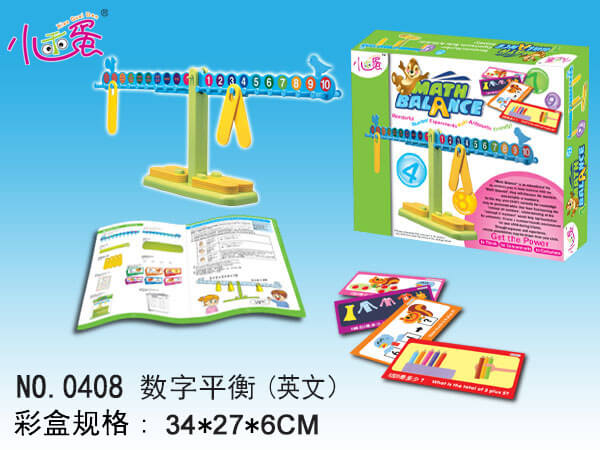 This toy is about mathematizing. Children will calculate the number in order to keep the balance. There are some cards with some pictures, such as the pictures will show kids how heavy the apples can keep the balance with animals. It can train children' s brain, they will calculate the weight and keep the balance. In this process, kids learn some math knowledge and recognize the calculation.
#C. Yima Toys (壹马)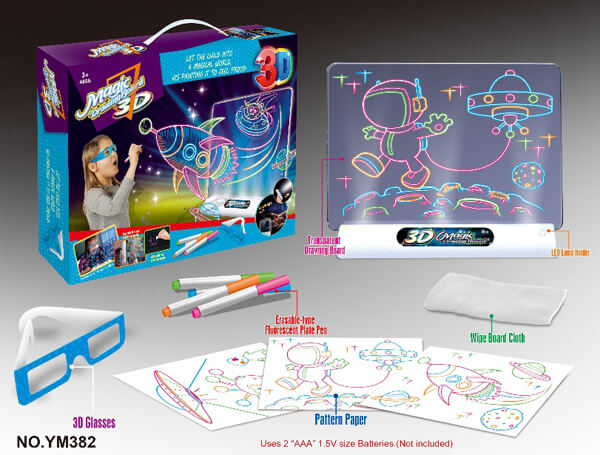 This toy is called the Mini 3D Sketchpad. Children could draw the pictures on the 3D sketchpad with 3D glasses. It will appear in the 3D effect. If kids want to draw another pattern, they can clean the board with wire board cloth. This toy not only trains their drawing ability but also increase cognition of new things. They will be interested to know about more pattern of everything with 3D effect in their daily day.   
#D. Kids Play Toys (孩之玩)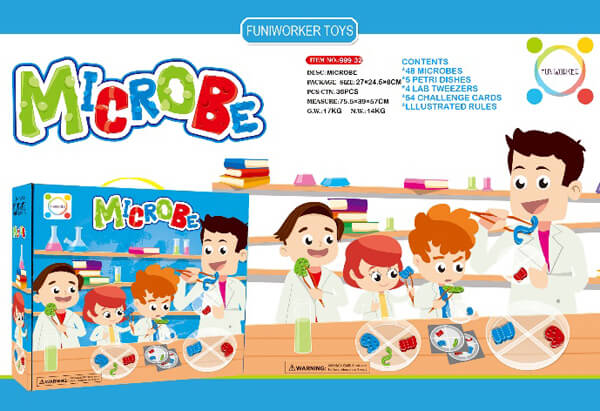 Did children study some science knowledge in the class? These toys will offer kids to learn about some basic science. Although these just a toy, it could train kids' interest in science. Crazy scientist, having 54 challenge cards. Children can mix different color balls in test tubes according to the cards. In this process, kids can simulate the experiment and have fun during this experiment.
MICROBE, other kinds of toys in science. Children can learn about some microbe thought these toys with their friends. Not only can kids learn science knowledge in the class but also they can do some experiments after class.
#E Doctor Star toys (博士星)
So many children like to watch the cartoon, especially there are some deformed cartoon characters. Children will want to imitate the characters. This toy is a popular cartoon, having different cartoon characters. Kids can construct toys for themselves. Maybe they will construct the same cartoon character or they will play their imagination. Every box has two toys include a formed toy and a deformed toy. It could inspire kids' practical ability and wonderful imagination.
If you need more STEM Toys, please check here STEM TOYS wholesale.
#4 Tips for Buying the STEM Toys From China
Some Factory provide certification for different country
1.Europe market- CE, EN71, REACH, EN62115, GS  
2.American market- ASTM F963, CPSIA  
3.Japanese market- Toy safety standards ST  
4. Australia and New Zealand market- AS/NZS ISO8124  
5.Canadian market- CCPSA
before importing the toys to your countries please pay more attention to Certification you may need.
To get the contact information of STEMtoy manufacturers, get the best price and complete catalog, please fill in the contact information below and our toy manager will contact you.