Do you want to know how to buy from 1688 if you're not in China and how to find good suppliers on 1688?
As a foreigner, it's hard to buy from 1688. But if you really know how to use this site, you will find it to be a treasure. You can find a bigger range of products.
1.1 Know what the 1688 Platform is.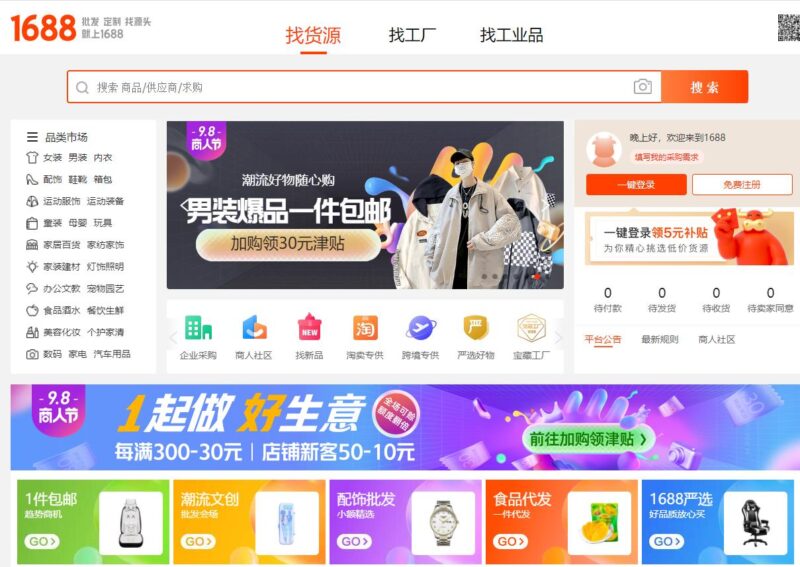 1688 is a Chinese site that is mostly used for dropshipping and wholesale. It is a supplier to Taobao, AliExpress, Lazada, Wish, Amazon, and other e-commerce platforms. If you run an e-commerce business and want to ship directly or wholesale from China 1688, you may run into problems with language, payment, and shipping because 1688 only accepts RMB currency and mostly ships in China.
How to Buy in English from 1688
All of the 1688 website is in Chinese. None of it is in English. So, if you want to translate from Chinese to English, you need to download a Google browser.
1.2 Choose who will take care of your 1688 orders.
How do you buy from 1688 if you want direct or wholesale from 1688 to your country? You can actually sign up for 1688 agent service. They can help you find and pay suppliers on 1688 and ship from China to your country using international express service.
So, the first thing you need to do is find a 1688 agent and give them the product, color, size, quantity, budget price, quality control, samples, payment terms, commission, and other basic information about your business.
After that, the agent can help you find and talk to the supplier on 1688 to get feedback on the product and the supplier so you can decide whether or not to buy it. After that, you can pay for the order and the shipping money from China 1688.
Even though the process isn't hard, it's important to ask questions and build trust with the 1688 agent so you don't run into any problems when you buy from 1688.com.
You can buy one of 3 models from 1688 Forwarder.
Call the supplier directly at 1688.Com
After signing up for a 1688.com account, you can log in to your Aliwangwang account to talk to suppliers directly.
On the product page, you can also find the supplier's phone number or WeChat ID and contact them through WeChat.
The rest is like shopping on Alibaba, where you talk with the supplier about product details, samples, order quantity, discounts, payment methods, etc.
-Advantage
You can talk to the manufacturer instead of going through a middleman.
Most of the sellers on 1688.com only sell to people in China. Most of the time, the prices they give you are lower than Alibaba's.
-Shortcoming
Many suppliers don't speak English, so be patient and use simple English.
Many of the people who sell on 1688.com don't have a PayPal account. Only RMB can be put on their bank cards. You have to come up with a way to pay that they will accept.
Use Shopping Proxy Site to buy things from 1688.com
There are a lot of Chinese websites that help you buy things from well-known Chinese online stores like Taobao, 1688.com, JD.com, and others. You only need to submit a link to a product on their website. Then, they will help you buy things from that supplier.
When all of your orders arrive at their warehouse, they will combine them, repack them, and send them to you using different shipping methods.
-Advantage
The good thing about these sites is that they are simple and easy to use, and shopping on them is a lot of fun.
Everything is just like when you shop on AliExpress.
You can also pay with PayPal or a credit card.
-Shortcoming
They won't help you find products or people to sell them to.
They also won't help you check how much and how well your order was made.
On 1688.com, you have to look for the products and suppliers you want yourself.
Their shipping method is only for small orders, and they don't offer air, rail, LCL, or ocean shipping for large orders.
1688 Purchasing Agent
If you look on Google or Alibaba, you can find a lot of 1688.com buying or buying agents.
They provide a more complete and professional service. Most of the time, you just need to tell them what you want or show them pictures of the product, and they will help you with the rest.
-Advantage
They usually offer more services, like finding products and manufacturers, samples, custom products, customs clearance, more shipping methods, etc.
Their service is one-on-one, which means that you get quick and individualized help.
Many of them speak other languages well, so you can talk to them in the local language.
-Shortcoming
They only want big customers and big orders, and if you place a small order, they may charge you a high commission or not respond as well.
1.3 Call 1688 to find a good supplier.
Chengxintong (诚信通), the fee is 6688 yuan per year. You can apply for it as long as you have a business license. (The Membership fee is the lowest, and we can't turn away good merchants because we can't tell who they are. Some people said, "The seller is better if they give you more time to pay." I don't totally agree, though, because if you pay on time every year and don't close the online store, you can automatically upgrade as long as you don't miss a payment. You can do this whether you are a good merchant or not. The number of years you've been in business can't prove that you're a good business or that you're not a good business. So, if we use this method, we have a 20% or even 10% chance of finding a good supplier.
Powerful merchants (the sign is Bull Head), the annual membership fee for the women's clothing industry is 58,000, and the fee for the other clothing industries is 28,000. The basic idea is that you have to join the Chengxintong first, and the company has to have at least 50w in registered capital. This threshold is higher, which is the same as an upgrade version to get rid of fairly good suppliers. Most of the time, it's fine to pick strong merchants, but that's not enough! At this point, we have a 60% chance of finding a good supplier.
In-depth inspections of both the factory and the business. If you make things, you can ask for a thorough evaluation. If you don't work in a factory, you can only request a thorough business inspection. So this is more reliable than strong merchants in general. I prefer thorough factory inspections to thorough business inspections because manufacturers can guarantee their products and offer low prices. At this step, we have an 80% chance of finding a good supplier. But that isn't enough. I want to have a better chance of succeeding!
Click on "File Report" in the "Company Profile" of any merchant with a detailed factory inspection to see how many people work for the company and how big they are. It is best to think about the suppliers of at least 50 people and, if possible, more than 100 people. The better, the more there are. Most of the time, big companies hire so many people because the quality is more likely to be good. At this point, there is a 98% chance that we will find a good supplier.
Also, if it's a clothing store and the model changes often, you have to worry that the seller might just steal the picture, which isn't very reliable. If the model is always the same person, that means the picture was taken in real life, which makes the supplier more reliable.
In the end, high-quality 1688 merchants mean strong merchants, a thorough factory inspection, and a lot of workers.
#2 How to Buy from 1688 Without Getting Bad Products?
Don't buy the cheapest things.
You have to be very careful when you buy things for your Amazon store from 1688. Quotes are given from at least 5 to 10 suppliers, and their prices are usually different.
To make the most money, you might be tempted to choose the cheapest supplier. This is a mistake that many new Amazon sellers make, which is a shame. They go with the cheapest supplier, and there is a good chance that they will end up with low-quality goods.
Why can some 1688 suppliers charge you less? Most of the time, this lowers the quality of the product. For the supplier to be able to give you such a low price, it could be because they use cheap materials, cheap labor, or old equipment. Even though the short-term cost is low, the quality of the final product is poor, and the long-term cost will be much higher.
For example, if I contacted seven Amazon suppliers on 1688, six of them would give me an offer between $15 and $1.70, but one would give me an offer of $0.90. It's hard to trust such a supplier. Why do people charge between $1.5 and $1.7 per unit when this supplier can sell the same thing for almost half the price?
Most of the time, it's because the products aren't as good.
Of course, every situation is unique and can't be summed up in one sentence. Just know that it's better to spend a little more on goods made by reputable companies with mature technology than to save money in the short term by buying cheap goods that aren't as good.
Because goods can be made in different "grades," they sometimes even change the price and the materials used to make them. If you buy at the cheapest price, the product you get is also the cheapest one that can be made.
Buying samples
During the sampling process, you have to make sure that you get samples of the final production units.
Most of the time, the supplier promises to fix any small problems that come up during production. Don't believe it. To make sure the final sample is complete, it must be a full version.
Some situations make this impossible. For example, before mass production, some suppliers might not have the right tools to make the final customized packaging. Or, the item might need to be made in a special mold. In these situations, the final version won't be seen until production begins.
But one thing you can do is ask suppliers to start making and sending pictures and videos right away. So, you can easily see how the final product will look and make any changes you need.
This isn't the perfect answer, but it's better than nothing. But in most cases, you can see a sample of the final product before it is made. This will give you a good idea of how to work with any manufacturer in the future.
You can add a detailed description of the product to make sure that in a single contract, you can write down all the information that was asked for, just in case.
Be as clear and specific as you can. Include all sizes and measurements, the materials used, the weight of the item, its function, a description of the materials, a description of the function, etc. The more detailed the description, the more likely it is that you will win any arguments about the quality of the product.
At the same time, you should show the supplier that you care most about the quality of the product and won't buy anything that isn't good. This will put them under more stress and force them to do things right from the beginning.
When your product is made is the next important step.
To avoid getting broken items, the pre-shipment inspection needs to be set up while the goods are still at the Chinese manufacturer.
Inspection is the only way to tell if a product is of good quality, and it's also the only way for your suppliers to fix any problems, since they'll want to get the rest of their payment from you.
How to avoid Buying Broken Electronic Products in 1688?
Electronics are a high-risk group of products. There are a lot of things that could go wrong with these products. If you don't work with a big, well-known manufacturer, you'll be taking a big risk and will have to deal with a lot of bad products.
Any product that needs to be sewn, like clothes, shoes, covers, bags, accessories, etc., is also high risk. Not only do you have to worry about the size, the quality of the sewing, and the materials, but many Chinese factories can't make high-quality products that meet foreign standards.
When a supplier makes something for the first time, there are often problems with the quality.
The rate of product defects will also depend on the minimum order quantity. Their minimum order is 2000 pieces, and they are a big factory with a good name. You were able to get the minimum number of items to be 500.
This also means that they don't care as much about your order.
They are used to working with big companies that are worth millions of pounds because they order thousands of products at once. Large manufacturers have very high minimum standards because of this. There will be some exceptions, but in general, they won't be as nice as some other small businesses.
I hope that some of the information will help new Amazon sellers and make it easier for people to buy from 1688 with less chance of getting a bad product.
if you think it is hard to deal with 1688,the most easy way to find a China Sourcing agent, they handle all including sourcing, order, payment and shipping.