When you find a toy manufacturer/ factory, maybe the Chinese Toys company have sent you some certification for their factory, like ISO9001, FSC, BSCI certification, so what is that?
This article will introduce all the toys factory certification for you.
#1 ISO 9001 certification
#2 BSCI certification
#3 FSC certification
#4 ISO14001
#5 OHSAS 18001 certification
#6 GMP certification
#7 GSV certification
#8 HACCP certification
#1 ISO 9001 certification
ISO 9001 is the international standard for a quality management system ("QMS"). To be certified to the ISO 9001 standard, a company must follow the requirements outlined in the ISO 9001 Standard. The standard is used by organizations to demonstrate their ability to consistently provide products and services that meet customer and regulatory requirements and to demonstrate continuous improvement.
Tip: if the factory has ISO 9001 can not mean their product with good quality, just can verify their factory production management is with international standard.
#2 BSCI certification For Chinese Toys company
Business Social Compliance Initiative BSCI Certification is the regular European stage of retailers, industry, and bringing in organizations for checking and improving social gauges in provider nations for all customer products.
WHY IS IT IMPORTANT TO CONDUCT BSCI AUDIT ?
Ensure workers throughout your supply chain are being treated ethically and their rights respected – including freedom of association, fair remuneration, health & safety, and prohibition of child labor

Avoid negative press if it is found your suppliers are treating workers poorly

Enhance your reputation among consumers as a reputable and ethical company and develop a competitive edge

Improve your relationship with suppliers

Smooth your journey to SA8000® social accountability certification
Tip: if you sell your in big company platform like Wal-Mart、Disney、Target、 Costco、K-mart, they will require your supplier have BSCI certification. The certification verifies for manufacturer no product. 10% of toys manufacturer have BSCI.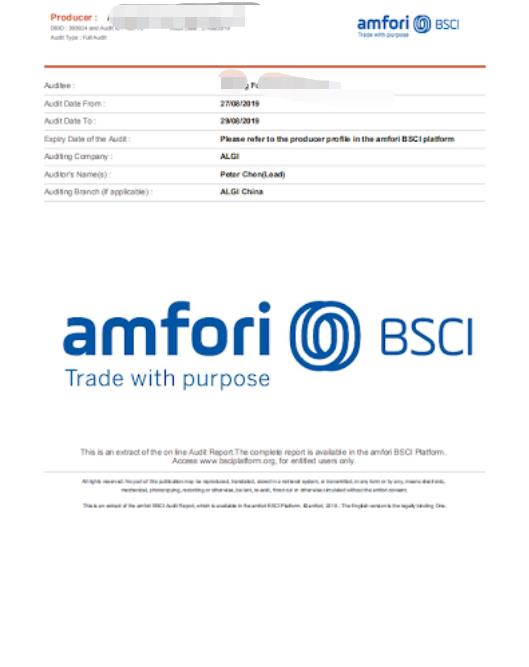 #3 FSC certification
If a product, like a piece of tropical hardwood patio furniture, is labeled as "FSC Certified," it means that the wood used in the product and the manufacturer that made it met the requirements of the Forest Stewardship Council.
Tip: Becoming FSC certified shows that you comply with the highest social and environmental standards on the market. Wood toys ask for this certification only.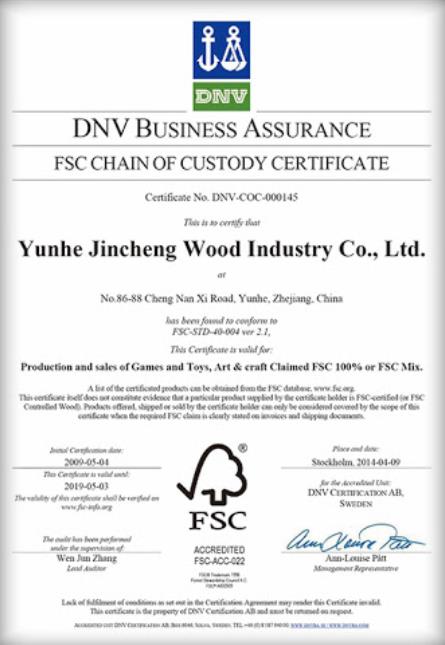 #4 ISO14001
ISO 14001 is the international standard that specifies requirements for an effective environmental management system (EMS). It provides a framework that an organization can follow, rather than establishing environmental performance requirements.
Differences between ISO 9001 and ISO 14001?
9001 is focused on quality management and 14001 on environmental management. Because of this, there are different requirements contained within the shared clauses. For instance, clause nine of 9001 (Performance evaluation) requires organizations to track customer satisfaction.
Tip: if factory apply for ISO14001, it will ask more service requirement that ISO9001
#5 OHSAS 18001 certification
The OHSAS 18001 Certification Scheme is an occupational health and safety standard designed to enable organizations to control risks and improve performance in the area of OH&S.
Is Ohsas 18001 still valid?
Since its first publication in 1999, OHSAS 18001 has been a recognized occupational health and safety management system (OH & SMS) standard against which management systems can be assessed and certified. … After the 12th March 2021, all OHSAS 18001:2007 certificates will expire.
#6 GMP certification 
Good Manufacturing Practice (GMP) is a system for ensuring that products are consistently produced and controlled according to quality standards. It is designed to minimize the risks involved in any pharmaceutical production that cannot be eliminated through testing the final product.
Tip: GMP can not ensure the product from the factory is of good quality.
#7 GSV certification
The Global Security Verification (GSV) Standard is a program established by Intertek to help importers as well as suppliers in assessing their security measures based on international supply-chain security requirements.
Tip: your suppliers recognize it as the best way to minimize business risk and drive business benefits.
#8 HACCP certification
HACCP certification is an international standard defining the requirements for effective control of food safety. It is built around seven principles: Conduct Hazard Analysis of biological, chemical, or physical food hazards. … Establish a system to monitor control of Critical Control Points.
Tip: HACCP certification mostly is for the food item, but for some toys which touch kids month or skin, they ask it as well.