Nov.2019, TonySourcing team was interview about China Shantou toys factory by the Wall Street Journal Interview.
Here is the link:
The topic is How TonySourcing help buyer import from China toys factory, how is the toys manufacturing situation here and how is the business under the US-China trade war.
Below is more info about it.
#1 What is the Shantou toy showroom?
1.1         Shantou toy showroom is a place to display all kinds of toys from the Shantou toy factory.
1.2         The toys exhibition hall (toys showroom) make it more easy for the buyer to choose more interesting toys
1.3         Here have over 5000 factory and 1 million toys items
#2 What can be found here about Shantou Toys factory?
There is quite a lot. You can find educational toys, dinosaur toys, kitchenware toys, Candy toys, baby toys, toys for 1-year-old, 2 years old, 3 years old… almost all kinds of toys you can find from here.
#3 Who is TonySourcing and what you do?
I'm Tony, the founder of TonySourcing.com we provide service to help global buyers import toys from China toys manufacturer. In this way, the buyer will get better quality and good price toys.
#4 Why global buyer want to come here to find Shantou toys factory?
4.1 Shantou toys are more and more famous in the world. 70% of toys around the world come from China and 70% of china toys are from Shantou factory.
4.2 Shantou toys are with good quality, variety design and good price.
#5 What Shantou toys can do for an overseas buyer?
5.1 Shantou toys can guarantee the quality is what the buyer wants
5.2 factory can match the buyer's requirement to build up their brand, like changing the design, change the size, change the package style to fix their sale market.
#6 How Shantou Factory keeps its business grow up for the passing year and the future?
6.1 do more research from the final consumer to create new toys with more fun
6.2 upgrade the manufacturing to improve toys quality
6.3 do more marketing to make more global buyers know Shantou toys is their best option. Buy from Shantou really can help them grow up business.
#7 How is TonySourcing business going?
Kepp growing up in 2015. Every year we keep 30% growing. Now every week we get more and more inquiry from global buyers to ask "how are Shantou toys and how to buy toys from here?"
#8 What is your client's business?
Our Client from American, Europ, Asia, mid-east, some of them is wholesaler, some of them are retailer, and some is online business seller like Amazon seller.
#9 How do your customer feedback?
When our customers order and get their goods, we always ask them the feedback. Quick a lot of them will give us 5 start feedback for our service and toys product.
#10 How to import items from China?
10.1 choose item then let us know
10.2 we place the order to china factory
10.3 arrange warehouse to collect
10.4 do inspection
10.5 arrange loading container
10.6 custom declaration
More detail please check this link — how to import toys from China?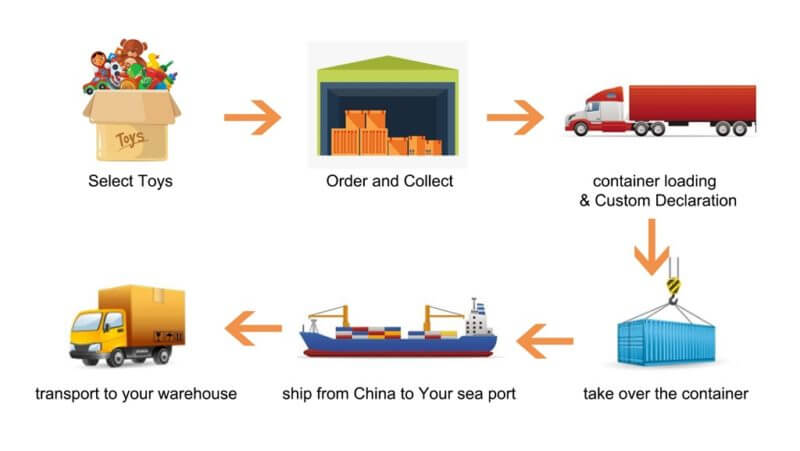 #11 Why China Shantou Toys can be so successful for toys?
The answer is local support service is very professional.
11.1 good translate company to help buyer connect to the factory
11.2 over 10 toys big showroom make more buyer check more toys
11.3 factory stable capacity to deliver the goods fast
11.4 big enough warehouse to collect the goods and do an inspection
11.5 developed shipping system to arrange shipment easily. No matter just a few carton boxes or full container shipping
11.6 low MOQ offers to global buyers to test sales.