The global market has a share of hundreds of millions of children's toys sold each year, and it continues to grow. Are you curious about how these toys are made and which companies design and manufacture them? Today, I'll list some toy manufacturing companies for your reference.
Jazwares, a subsidiary of Alleghany Capital Corporation, is a leading global toy company, recently expanding into the costumes and pets category. Jazwares' portfolio includes a variety of dynamic licensed and wholly owned brands. The Jazwares Game Studio further expands play opportunities for kids within the Metaverse. Jazwares celebrates 25 years of innovative play with expertise in design, development, and manufacturing. An award-winning company with a progressive focus on identifying new trends, Jazwares then transforms them into high-quality products for consumers of all ages.
Website
http://www.jazwares.com
Industry
Manufacturing
Company size
1,001-5,000 employees
Founded
1997
Specialties
Toys, Manufacturing, Brand Licensing, and Consumer Products
ZURU is a disruptive and award-winning company that designs, manufactures and markets innovative toys and consumer products. Inspired by kids and imaginative play, ZURU is one of the fastest growing toy companies in the world and is known for their agility, creativity and new-age manufacturing techniques. The company that started in New Zealand now employs more than 5,000 staff across 18 offices, produces 600,000 toys a day and distributes to most major retailers in over 120 countries. ZURU has delighted millions of families all over the world with brands such as Bunch O Balloons™, X-Shot™, Rainbocorns™, Robo Alive™, Smashers™, 5 Surprise™ and Metal Machines™ as well as through partnerships with entertainment properties, including Nickelodeon, Disney, Universal Studios and DreamWorks.
Website
Industry
Manufacturing
Company size
1,001-5,000 employees
Specialties
TOYS, INNOVATION, IMAGINATION, and CREATIVITY

The Step2 Company, LLC. (Step2) is based in Streetsboro, Ohio. Step2 sells products for children including toddler toys, outdoor toys, play kitchens, ride-on toys, swing sets, wagons, sand and water play products and juvenile furniture. It's our mission to be the leading innovator of children's products that build imaginations and enrich the family's celebration of childhood. Step2 also offers a selection of home and garden products under the "Home by Step2″​ name with a particular emphasis on mailboxes and porch delivery boxes. Step2 is the largest toy manufacturer in North America. Step2 boasts two large US manufacturing plants in northern Ohio, one in Streetsboro and one in Perrysville. Step2 products are distributed to select retailers throughout the US, Canada, and over 70 other countries.
Website
Industry
Manufacturing
Company size
501-1,000 employees
Specialties
toys, manufacturing, mailboxes, children's toys, furniture, playhouses, play kitchens, outdoor furniture, and outdoor storage

PlayMonster is a leading international toy and game company. We believe in the power of play to make a positive difference in people's lives and we strive to keep play alive for all ages by delivering great play value through designing, manufacturing, and marketing innovative and fun toys, games and activities. PlayMonster's diversified portfolio includes popular brands and products such as "TOTY Game of the Year" Yeti in My Spaghetti®, plus THINGS…®, 5 Second Rule®, Relative Insanity®, Farkle, Five Crowns®, Spirograph®, Colorforms, My Fairy Garden®, Fashion Plates®, Latchkits®, Snap Ships®, Koosh®, and the recently acquired Ann Williams Group including Loopdedoo®, Craft-Tastic®, Craft Crush™ and Sticker & Chill™.
Website: http://www.playmonster.com
Industry
Manufacturing
Company size
51-200 employees
Founded
1985
Specialties
Manufacturing and marketing of family entertainment products.
Moose Toys exists to make children happy. The team has innovation in their DNA and are famous for the design, development and manufacture of award winning toys that continue to disrupt the market! A certified Great Place to Work five times over, Moose Toys dominates in categories including collectables, craft, dolls, games and youth electronics and is consistently recognised as the most creative company in the industry. The family run business disrupted the toy industry with the global phenomenon Shopkins and through these pintsized characters, reinvigorated the way children play. The success of the company extends to the development of content, entertainment and global licensing deals. Moose calls Australia home, but also has over 600 staff spread out in offices in the UK, USA, Hong Kong, China, France, Canada and Spain.

Website
Industry
Manufacturing
Company size
501-1,000 employees
Founded
1985
Specialties
Design, Consumer Products, Sales & Marketing, Product Development, Manufacturing, and Toy Design & Development
Founded in 2001, Super7 is the premier pop-culture design house and producer of toys, apparel and collectibles based in San Francisco. Led by designer Brian Flynn, Super7 has harnessed the graphics, aesthetics and energy of his obsession with science fiction, giant monsters, comic books, punk rock, skateboarding, robots and rebellion to build a unique and innovative business that crosses all categories and is not bound by traditional manufacturing boundaries.
Website
http://super7.com
Industry
Manufacturing
Company size
51-200 employees
Founded
2001
Specialties
Toys, Collectible Toys, Entertainment, Merchandise, Apparel, Design, Retail, Action Figures, and Toy Design
Aurora World is a leading manufacturer and supplier of high quality, competitively priced plush toys and gifts. Aurora's name reflects its extensive product lines and growing influence in the worldwide marketplace, as well as its international manufacturing, R&D and distribution resources. Founded in 1981, the company has headquarters in Korea, United States, the United Kingdom and Hong Kong, and has ascended quickly to become a respected leader in the toy and gift industry. Aurora created the international plush toy phenomenon – YooHoo & Friends™ – and its corresponding free, interactive website (www.yoohoofriends.com), appealing to young children and tweens alike. The company sells its products via a wide variety of retailers including major zoos, high-end toy stores such as Learning Express, top gift chains such as Hallmark and Claire's as well as hospital gift shops, fine florists, candy stores and gift/stationery stores worldwide.
Website
Industry
Manufacturing
Company size
51-200 employees
Founded
2001
Specialties
Manufacturing, Custom Plush, Licensing, Seasonal Products, and Character Content
Intek is a multi-category toy company that designs, develops, manufactures and market consumer products for children around the world. We started operating in 2003 with headquarters in Hong Kong and today with offices in Argentina and Chile, our products are distributed and marketed in more than 50 countries worldwide and can be found in almost all major retailers.
Website
Industry
Manufacturing
Company size
51-200 employees
Founded
2003
Specialties
Toys, Consumer products for children, design, innovation, Sales & Marketing, Product Development, Creativity, entertainment, imagination, distribution, retail, toy development, Manufacturing , and advertising
Green Toys Inc. is the world's leading manufacturer of eco-friendly children's products. A pioneer in the use of recycled materials in consumer products, Green Toys makes an incredible line of classic children's toys constructed from recycled plastic and other environmentally friendly materials. The company's US-made products have a very devoted consumer following, and are now sold in over 3,000 retail location in the US, and are distributed globally in over 90 countries.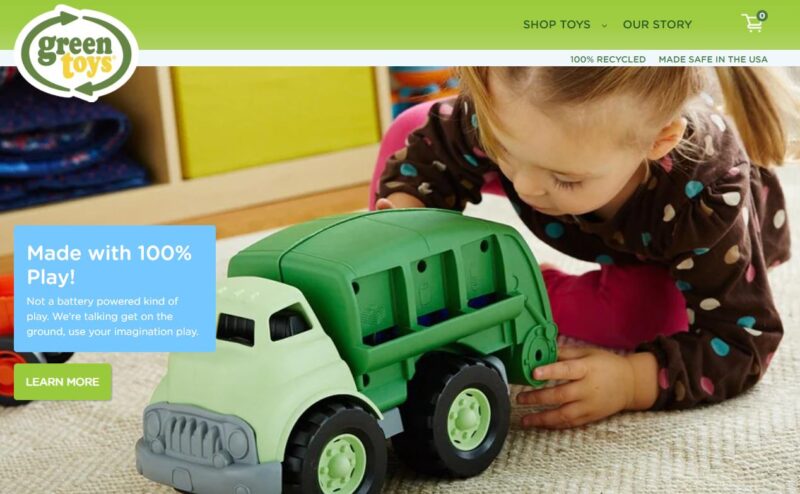 Website
Industry
Manufacturing
Company size
11-50 employees
Founded
2007
Specialties
Toy design and manufacturin
WeCool Toys is a Global Designer and Manufacturer of Dynamic Toys, Crafts, Compounds and more. they own, operate and manage all vertical and horizontal production, package, export and distribution processes.
Website
Industry
Manufacturing
Company size
2-10 employees
Founded
2016
Specialties
Toy Manufacturing

TonySouring specializes in all types of children's toys, is based in China, and exports to countries around the world, including the United Kingdom. Craft & education, novelty toys & candy, party supplies & holiday are their main catalogs. Because TonySourcing has over 5000 real toy manufacturing factories behind them, if you send them a picture of the product you want, they can get back to you with a quote from the manufacturer.
Website
Company size
10 employees
Founded
2012
Specialties
Kids wholesale distribution, fidget toys, educational toys.
Summary
According to tonysourcing's search research, there are about 500 toy manufacturing companies that are well known. They develop, design and produce distinctive children's products, with new models introduced every year. If you are in the toy business, you may want to open their website, which can help you generate some toy ideas.
Tips: Who is the biggest toy manufacturer?
Among the many brands of toy manufacturers, Lego is arguably the largest toy manufacturer, with a wide variety of products and a focus on consumer style. After comparing the sales with other popular brands such as fisher-price, nerf, Hasbro, hot wheels, Lego finally won.