How is E-Commerce trend at 2022?
Here are some steps you can take to get where you need to be when buying China Wholesale. Purchasing wholesale allows you to lower your sourcing costs, resulting in enlarging your profit margins when you find products to sell online.
Alibaba and GlobalSources are search engines for Chinese suppliers that allow you to access thousands of vendors instantly.
Using TonySourcing.com allows you to find outsourcing specialists that can assist you in the entire process, from finding a Chinese manufacturer to submitting, and paying for the goods manufactured overseas. Listed below are the key factors to drive your business and what you need to know and do to succeed.
#1 Find a Vendor Using Alibaba
By typing in what you are looking for, Alibaba will return a list of suppliers, price ranges, and minimum quantities of Chinese wholesaler companies.  Afterward, you can send the vendor a message and establish contact directly with them. Alibaba boasts the most suppliers.  Sellers can be accessed personally to discuss your order, negotiate prices and learn more about their business.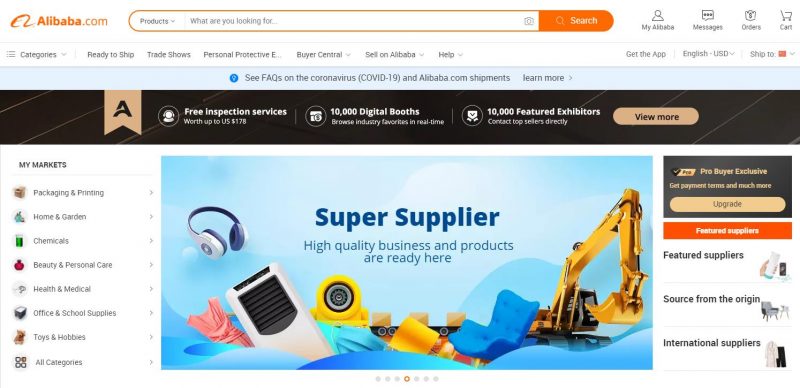 #2 Global Sources for Vendors
As a result, Global Sources attracts vendors of higher quality thanks to its in-depth evaluating process. For Global Sources vendors, MOQs or minimum order quantities are usually higher than other vendors. Global Sources is an internationally recognized B2B sourcing platform that has been driving global trade for more than 50 years. The company connects authentic buyers and verified suppliers worldwide on its digital platform
#3 Do You Need a Sourcing Agent?
You can make huge profits from your business by importing low-cost products from China. This is not always an easy process, which sometimes begs the question "Do you need a sourcing agent?" Finding experienced manufacturers and handling quality control and logistics are just a few ways a sourcing agent can assist you in running your business. If you partner with the right  agent, you can concentrate on other aspects of the business so your wholesale business in China becomes more profitable and successful.
TonySourcing.com is a company that can assist in manufacturing your product. They have a global network of verified factories to work with and will help you every step of the way. It's possible to follow them from the beginning to the end until you have the final product in your hands.
Their China wholesaler sourcing agents hunt for wholesale suppliers and manufacturers in China, identify them, and negotiate with them in close cooperation with you. In addition to market research, quality control, pre-shipment assessment, and customs clearance, China sourcing agents can also help you grow your supplier network. Being able to communicate effectively in Mandarin and English is an essential qualification for a superb sourcing agent. Quality control experience is also essential. The agent should know about audits and logistics.
Your business can benefit from partnering with the right sourcing agent and wholesaler.  With the help of a professional China sourcing agent, you can obtain high-quality products at incredibly low costs that will improve your bottom line.
#4 Obtain a Wholesale License
Your imports from China may or may not require a wholesale license. Every state imposes a sales tax, and you surely don't want to be taxed twice from getting your goods from the manufacturer to selling them to local consumers. With a wholesale license, you can purchase products in bulk and resell them without paying taxes. Your re-selling business may also need a sales tax license.
Visit the IRS.gov website to learn about the requirements for a wholesale license. Each government agency has its requirements. You may need to comply with FDA requirements if you importing items that need their approval. Logging into your local state's website, reading and understanding the license requirements are the first steps. The next step is setting up your business as a legal entity. You must then apply for a sales tax ID number.
#5 How to Pay a Chinese Wholesaler
Payment is usually made via wire transfer for most manufacturers. As well, you need to pay some money upfront. This amount is usually 30% of the total cost, so that the company can cover the initial costs. Once the order is shipped, you pay the balance.
A service like Alibaba trade assurance, which facilitates the exchange of goods and services, can alleviate your concerns about fraud. If you are concerned about sending money overseas, consider using PayPal instead. Several vendors accept PayPal if all the fees are covered by you.
#6 How to Expand Your China Wholesale Business
You need to source the right products in China from the right suppliers. Starting small is the best plan if you are new to the China wholesale business. The next step is to grow your wholesale business in China.
Profitability can be improved by merging the supply chain. Traditionally, you purchase wholesale goods from China and sell them to retailers, who, in turn, sell them to consumers. You may be able to grow your business by cutting out the middlemen and selling directly to the consumer.
Your China wholesale business can benefit greatly from an effective pricing plan of action. The right sourcing agent already has the right suppliers providing the product at a great price. To grow your company and your consumer base, you must tweak your pricing game plan.
Pricing your product correctly can help you recoup expenses and still provide your consumer with a great product at a good price.
The biggest advantage of sourcing from China is the affordable, high-quality products. The quality of your products directly relates to the price you pay. A sourced product that does not comply with regulations and certifications could have legal consequences for you, which will cost you in the long run.
You should be careful when signing a sales contract with Chinese suppliers. Include important items like product specifications, quality control, and returns policies so you only receive high-quality products.
Purchasing from a china wholesaler can be risky, but you can minimize these risks by finding proficient people to collaborate with and paying attention to details. In the end, China's benefits overshadow the downsides of sourcing products there.