Recently quite a lot of clients ask me " is it a good idea to register an account to sell online/amazon for amazon toys?""how is selling toys online business?"
how is it the profit situation for other seller sales?
Below we do research, to check how much profit for bestseller gets in Amazon sales.
How I calculate it is:
Total profit=Unit profit X sale Quantity
Unit Profit = Sale price – Amazon commission – FBA fee – shipping fee to FBA warehouse- FOB price
#1  I random find out 3 bestseller toys( top 100) in Amazon( 2017.Sep.12th) this 3 items we just mark it A, B, C
ITEM A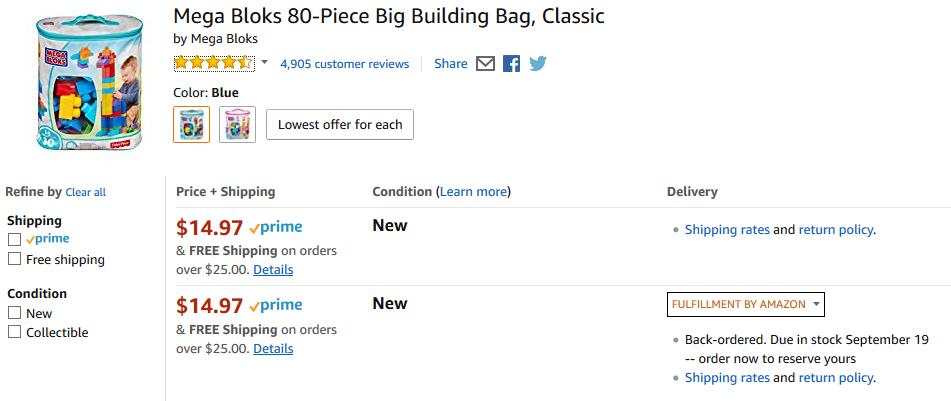 ITEM B
ITEM C
For A, sale in 11.49  (3,938 reviews)
For B, sale $14.97  (4,905 reviews)
For C, sale $ 8.49  (634 reviews)
#2 we sourcing those 3 items in China toys Market, it cost me 4 hours to get price and packing detail then make a quotation list. This price is toys factory price in China.
#3 count inland charge/unit.
One 40ft container = 68CBM, inland charge it is around 6,500RMB(1,000$)
For A,QTY in container = 68CBM / 0.24CBM(carton volume) X 36pcs(carton pack)=10,199pcs, because it need to pack with pallet. some space will be wasted , so final load QTY will be around 8,640pcs
this cost including container loading fee, China custom declaration fee,
container transportation fee from factory to Ningbo port (export port in China).
So inland charge/unit = 0.12 $/pcs
#4 all cost from Ningbo port to Amazon FBA warehouse.
This cost including sea freight from Ningbo to USA import port(here set as Dallas port ), customs clearance fee, transport fee to Amazon FBA warehouse.this cost = 37,000RMB(5,692$)
So Average shipping fee to FBA warehouse = 5692$/8640pcs=0.66$
#5 Amazon service fee + delivery fee.
(I use this link: https://sellercentral.amazon.com/hz/fba/profitabilitycalculator/index?lang=en_US)
Selling in amazon fee:1.72$
FBA fee: 4.79$
Amazon service fee + delivery fee For A item = 6.51 $/unit
---
Now,Profit/unit= $11.49- $2 – $0.12 -$0.66 – $6.51= $ 2.2
For this item,it get 3,938review (till 2017,Sep.15),it sale around 262,533(around 1-2 % buyer will leave review.)so,this seller make profit 262,533 order X $2.2 = 577,572 $!!
is it that surprise you?
Now, we can see, 19 %  ($2.2/$11.49)profit for An item.
B Item: 2.05$ unit profit, 13.6% profit, total profit = 2.05$ X 327000 order = 670350$
C Item: 1.55$ unit profit, 18% profit, total profit = 1.55$ X 42266 order= 65512.3$
Above it is info for reference only.
Toys supplier it is quite important for the seller, mostly they buy toys from China.
a good toy supplier can provide good quality items and good service, and competitive prices. (how we find out good toys supplier in China?)
TonySourcing Team professional at car toys, Rc toys, Kitchen toys, Dinosaur toys, educational toys, manga toys, baby toys, candy toys, capsule toys, farm toys, science toys,STEM toys, toys box, Silicone Squishy, TPR toys.
Behind, there are 5,000+ toys factory, 100,000,000+ toys sample, and over 8 years of toys experience.
if you want to start Amazon selling, why not have a try.